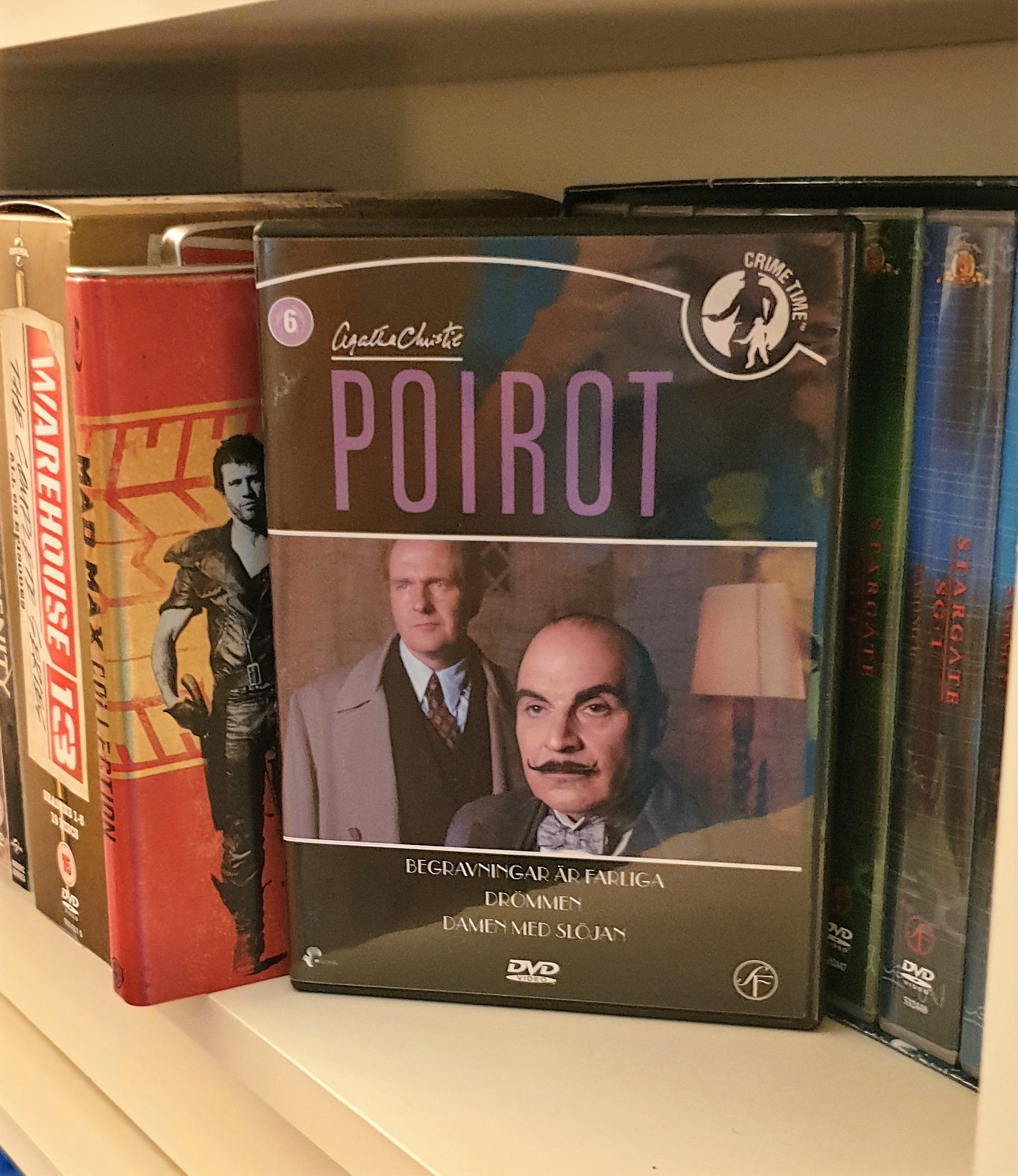 Format: DVD
Genre: Mystery
Location: Fi7b
Agatha Christie's Poirot 6 (2003)
This collection contains:
After the Funeral
His friend, solicitor Gilbert Entwhistle, asks Hercule Poirot to help solve a riddle and a murder. The riddle has to do with Richard Abernethie's will. It would seem that he changed his will immediately prior to his death, distributing all of his wealth equally among family members but excluding George Abernethie who, in all previous wills, had been the sole beneficiary. The two had supposedly argued recently, but Entwhistle suspects the new will may be a forgery. As for the murder, he would like Poirot to investigate the death of Cora Galaccio, who was violently beaten to death the day after Richard's funeral. She too had inherited from the suspect will, but are the two deaths and the will all part of a greater plot, or is there a simpler explanation?
The Dream
Hercule Poirot is puzzled when Benedict Farley summons him to a late-night meeting. Farley is known as the king of pies as his company manufactures a well-known brand of meat pies. At their meeting, he tells Poirot of a recurring dream where he takes a gun from his desk drawer, walks to his office window and commits suicide. His only question for Poirot is whether someone could be manipulating him psychologically. When Farley is found dead the next day – in circumstances that appear to match those in his dream – Poirot and Captain Hastings find themselves assisting Inspector Japp in a case that involves false identities and an affair. It is Miss Lemon, however, who provides Poirot with the vital information that allows him to solve the case.
The Veiled Lady
Poirot despairs at the lack of crime – and work – concluding that he, Hercule Poirot, has scared off the criminal classes. His mood brightens when Lady Millicent Castle-Vaughn – the veiled Lady of the title – asks him to recover from her blackmailer some indiscreet letters written in her youth. Unable to convince the man to reduce the amount asked for, Poirot decides to take matters into his own hands and steal them. As Poirot and Hastings learn, however, not all is as it seems, starting with Lady Millicent.