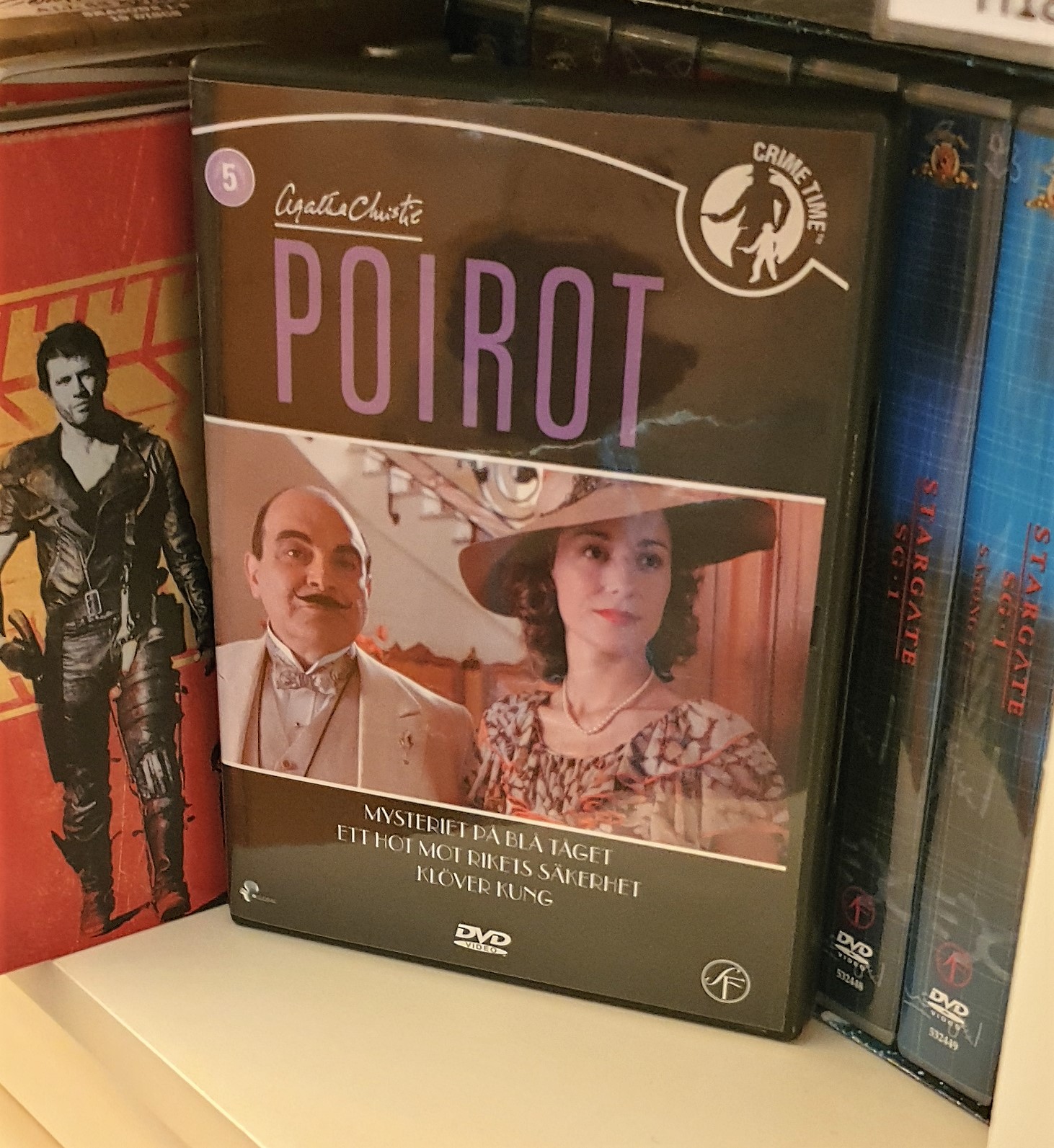 Format: DVD
Genre: Mystery
Location: Fi7b
Agatha Christie's Poirot 5 (2003)
This collection contains:
The Mystery of the Blue Train
After traveling on the Blue Train from Calais to Nice, Hercule Poirot is pressed into service to help solve the murder of heiress Ruth Kettering who is found savagely beaten in her compartment. She was the daughter of wealthy industrialist Rufus Van Alden and very much wanted a divorce. Both her husband and her lover were on the train but she had changed rooms with another passenger, Katherine Grey, so the question naturally arises as to whether she was the intended victim. Grey may also have had enemies as she had recently inherited a very large sum of money and greedy relatives had suddenly taken an interest in her. When an attempt is subsequently made on Grey's life, this appears to the case but Poirot methodically sifts through all of the clues to determine the motive and identify the killer.
The Incredible Theft
Tommy Mayfield is a British industrialist who has developed a new fighter plane. Up to now, he has paid all development costs himself and he very much wants the government to contribute. It is reluctant to do so because of an apparent indiscretion some years before when Mayfield was supposed to have sold heavy artillery to the Japanese. In order to get back into the government's good books, he decides to lay a trap for Mrs. Vanderlyn, a known Nazi sympathizer and possible spy. The bait is the plans for the new fighter but Mayfield's wife is so concerned that she asks Hercule Poirot to spend the weekend at their house to make sure Vanderlyn doesn't get away with anything.
The King of Clubs
After a visit to Parade film studios with his friend Captain Hastings, Poirot finds himself investigating the murder of Henry Reedburn, the head of the studio. Reedburn was something of a tyrant who had fired a veteran actor, taken over a major film from a young director and had recently blackmailed actress Valerie Saintclair into signing a new contract. Upon finding the body, Saintclair ran to a neighboring house to seek help, interrupting the Oglander family's bridge game in the process. However, the lack of a king of clubs on the card table provides Poirot with the only clue he needs to solve the crime.