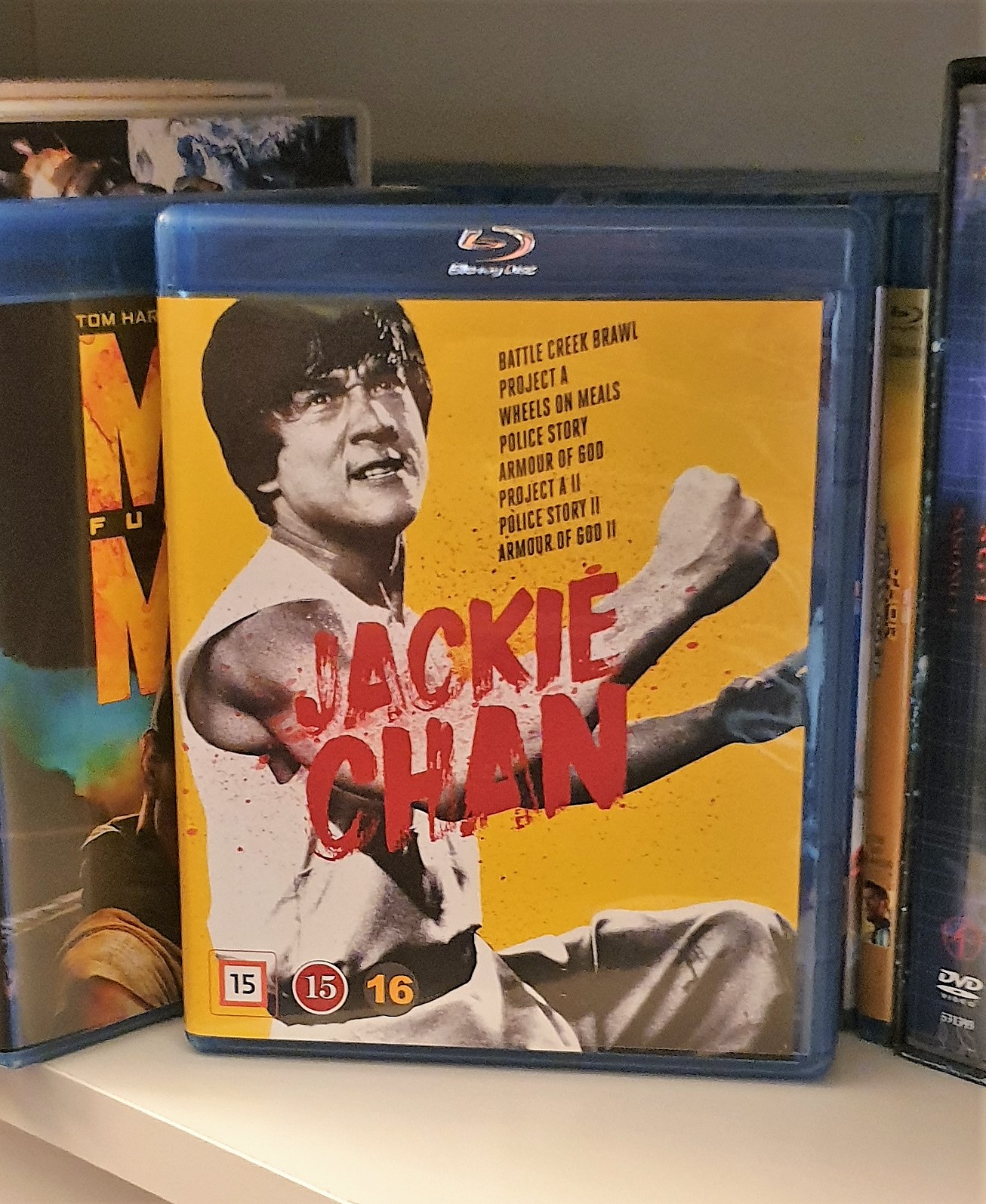 Format: Blu-ray
Genre: Action
Location: Fi14b
Jackie Chan: Vintage Collection Volume 1 (2018)
This collection contains:
Battle Creek Brawl (1980)
A young Asian-American martial artist is forced to participate in a brutal formal street-fighting competition.
Project A (1983)
In late 19th Century Hong Kong the British may rule the land, but the pirates rule the waters. Reluctantly, the Coast Guard is given money to fight these pirates, but the pirates themselves have many contacts (that is, bribed officials) in the government, and seek to thwart the Coast Guard's efforts to eliminate them. One Coast Guard officer is Dragon Ma, who is determined that his beloved Coast Guard will not be made fools of.
Wheels on Meals (1984)
Cousins Thomas and David, owners of a mobile restaurant, team up with their friend Moby, a bumbling private detective, to save the beautiful Sylvia, a pickpocket. Action and humor abound in the streets of Barcelona, culminating with a battle in the castle hideout of the evil gang.
Police Story (1985)
Kevin Chan (aka Jackie) is a Hong-Kong cop, who scores his first big hit by virtually single-handedly capturing and arresting a big drug- lord. Of course, the drug-lord isn't too happy about this and frames Kevin with the murder of another cop (who happened to be on the take). Kevin has to clear his name, whilst keeping himself from getting killed or arrested, and keeping his girlfriend from leaving him.
Armor of God (1986)
Jackie Chan plays an ex-singer-turned-fortune-hunter, whose ex-girlfriend is kidnapped by an evil cult. Her fiance, an old friend of Jackie's, turns to him for help – as the kidnappers intended. Lots of Jackie style action and laughs.
Project A 2 (1987)
Dragon Ma is back, having rid the seas of the dreaded Pirate Lo. Back on land, he is assigned to the police force, where he is to clean up corruption and crime in a local suburb. Along the way, he is caught up in the fate of several Chinese patriots attempting to secure sympathy and support for their revolutionary cause. The Chinese Manchu government is after these revolutionaries, and anyone that stands in their way is in trouble, even if they are in the police force.
Police Story 2 (1988)
Despite his success at apprehending criminals, Kevin Chan's unorthodox approach to his work as a police officer sees him demoted to the traffic branch. Despite this, the man he put behind bars is now out of prison and has vowed to make his life a misery. While this crime boss his harassing Kevin and his girlfriend, the police are contemplating reinstating Kevin to help them fight a group of bombers attempting to extort $10 million from building owners.
Armor of God 2: Operation Condor (1991)
Agent Jackie is hired to find World War II Nazi gold hidden in the Sahara desert. He teams up with three bungling women (the three stooges?) who are all connected in some way. However, a team of mercenaries has ideas on the ownership of the gold. A battle and chase ensue as to who gets there first. Lots of choreographed Kung Fu and quirky Chan humor.