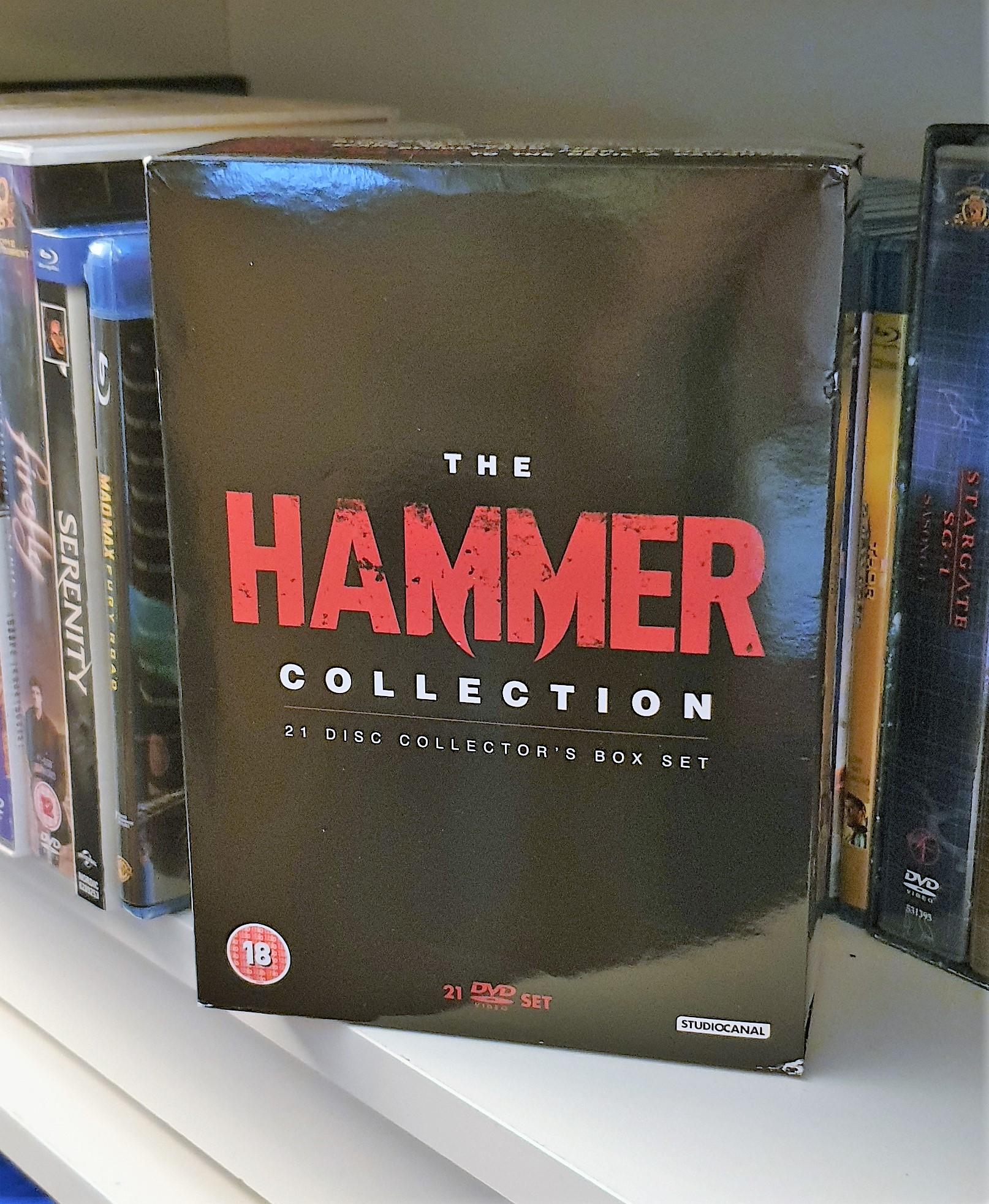 Format: DVD
Genre: Adventure, Horror
Location: Fi14a
The Hammer Collection: 21 Disc Collector's Box Set (2014)
This collection contains:
She (1965)
After doing military service in the Middle East, British archaeologist Holly, his valet and his handsome young friend Leo are spotted in Palestine and approached by a mysterious oriental who identified Leo by his uncanny likeness to the portrait on an ancient coin. An adventurous search for the lost Pharaonic city of Kuma proceeds to rely on a recently-acquired map. Their hasty mini-expedition reaches a hidden city where the Hellenistic age is still alive. It is ruled by the supernatural Ayesha, 'She who must be obeyed', who believes Leo is is the reincarnation she waited for all those centuries of Callicrates, a companion of Alexander the Great. She offers him immortality and to share the throne as her eternal love, but it goes tragically wrong.
The Nanny (1965)
Bette Davis is an English nanny whose charge is a rude 10-year-old Joey, just discharged from a disturbed children's home where he'd spent two years undergoing treatment for drowning his little sister in the bath. He returns to an unloving father, fragile mother, and doting nanny — whom he hates. Suspicion arises again when his mother is poisoned, and Joey continues to insist Nanny is responsible. Joey contends the nanny was responsible for his little sister's death, and only the upstairs neighbor girl believes him.
Dracula: Princess of Darkness (1966)
Two couples traveling in eastern Europe decide to visit Karlsbad despite dire local warnings. Left outside the village by a coachman terrified at the approach of night, they find themselves in the local castle and are surprised at the hospitality extended by the sinister Klove. It turns out the owner, Count Dracula, dead for ten years, has been hoping for such a visit.
The Plague of the Zombies (1966)
Young workers are dying because of a mysterious epidemic in a little village in Cornwall. Doctor Thompson is helpless and asks professor James Forbes for help. The professor and his daughter Sylvia travel to Thomson. Terrible things happen soon, beyond imagination or reality. Dead people are seen near an old, unused mine. Late people seem to live suddenly. Professor Forbes presumes that black magic is involved and someone has extraordinary power. He doesn't know how close he is: the dead become alive because of a magic voodoo-ritual, and so they must serve their master as mindless zombies.
Rasputin: The Mad Monk (1966)
Thrown out of his monastery for licentious and drunken behavior, Rasputin travels to St Petersburg to try his luck. Through a dalliance with one of the czarina's ladies in waiting he soon gains influence at court with his powers of healing and of hypnotism. But he also makes enemies who wish to see him dead.
The Reptile (1966)
Harry Spalding and his wife Valerie inherit a cottage in a small country village after his brother mysteriously dies. The locals are unfriendly and his neighbor Dr. Franklyn (a doctor of theology) suggests they leave. They decide to stay only to find that a mysterious evil plagues the community.
The Witches (1966)
An English school missionary assigned in an African village has a run-in with the local witch doctor and suffers a nervous breakdown. After recovering back in England she takes a job teaching in a small country town hoping to make a new start for herself. All goes well at first until she starts to hear some disturbing stories about the town. She soon discovers the town is home to a coven of witches and they plan to sacrifice a local girl in one of their rituals.
One Million Years B.C. (1966)
Caveman Tumak is banished from his savage tribe. He finds a brief home among a group of gentle seacoast dwelling cave people until he is banished from them as well. Missing him, one of their women, Loana leaves with him, deciding to face the harsh prehistoric world with its monsters and volcanos as a couple.
The Viking Queen (1967)
To honor her father's dying wish, Queen Salina shares the rule of Icena with Justinian, a fair and just Roman. This displeases the bloodthirsty Druids on one side and the more hard-line Romans on the other. As Salina and Justinian fall in love their enemies start to plot, and blood soon stains the green hills of Britain. 
Frankenstein Created Woman (1967)
A dead and frozen Baron Frankenstein is re-animated by his colleague Dr. Hertz proving to him that the soul does not leave the body on the instant of death. His lab assistant, young Hans, is found guilty of murdering the local pub owner with whom he had an argument where he foolishly swore to kill the man and Frankenstein acquires his body immediately after the execution. Hans had been quite friendly with the dead man's daughter Christina who returns just in time to see him guillotined. Distraught, she commits suicide and is brought back to life by the good Doctor but with Hans' brain replacing her own. As memories return to her – Hans' memories in fact – she sets out to pursue and kill those responsible for having sent him to his death. 
Quatermass and the Pit (1967)
While digging a new subway line in London, a construction crew discovers first: a skeleton, then what they think is an old World War II German missile. Upon closer examination, the "missile" appears to be not of this earth! This movie examines the age-old question of how we came to be on this planet. It is surprisingly scary.
The Vengeance of She (1968)
A beautiful young European girl, Carol, is taken over by the spirit of mysterious Ayesha, queen of the lost city of Kuma. Carol is taken to Kuma to succeed the almost-immortal Ayesha as empress of Kuma. 
The Devil Rides Out (1968)
In the countryside of England, the Duc de Richleau a.k.a Nicholas welcomes his old friend Rex Van Ryn that has flown to meet him and Simon Aron, who is the son of an old friend of them that had passed away but charged them the task of watching the youngster. Nicholas and Rex unexpectedly visit Simon that is receiving twelve mysterious friends. Sooner Nicholas, who is proficient in black magic, learns that the guests are members of a satanic cult and Simon and his friend Tanith Carlisle will be baptized by the powerful leader Mocata to serve the devil. The two friends abduct Simon and Tanith expecting to save their souls but Mocata summons the Angel of Death and the Goat of Mendes to help him in a battle between the good and the forces of evil.
Prehistoric Women (1967)
Jungle guide David Marchand is kidnapped by a tribe of natives who want to sacrifice him to their white rhino god. Just as he's about to be killed, however, he is thrown backwards in time to a kingdom of brunette women and their blonde slaves. David rejects the advances of Queen Kari and sides with the blondes, which leads to him being imprisoned in the dungeon. Can David find some way of returning to his own time? And if he does, what will be awaiting him when he returns?
Scars of Dracula (1970)
A young man, Paul Carlson, is on a trip and spends the night at count Dracula's castle. He is murdered. After some time has passed, the young man's brother Simon comes to the small town where all the traces end to look for him.
The Horror of Frankenstein (1970)
The brilliant but misunderstood scientist Frankenstein builds a man made up of a collection of spare body parts. The monster becomes alive but he has mental capabilities much below par. The monster is aggressive and wreaks havoc outside the laboratory.
Blood from the Mummy's Tomb (1971)
On the night before her anniversary, Margaret Fuchs receives an ancient Egyptian ring with a red stone as a birthday gift from her father, Prof. Julian Fuchs. Margaret has frequent nightmares about an expedition in Egypt with five members, including her father, finding the tomb of Queen Tera, an evil sorcerer with a severed hand. The members collect the sarcophagus with a totally preserved mummy, the severed hand with the ring with a red stone, and three relics. Margaret is possessed by the spirit of Tera and chases the expedition members to retrieve the objects and gives life back to Tera.
Straight on Till Morning (1972)
Shy Brenda Thompson writes naive children's stories to amuse herself. Stifled and desperate for a man of her own, she leaves Liverpool, telling her mom she's pregnant and gets a job in a boutique in London. She moves in with the promiscuous but good-hearted Caroline but the mod set shuns her for her plain looks. Then she kidnaps a strange young man's dog, so as to perhaps get to know him while returning it. The young man turns out to be Peter, a psychopath with a predilection for killing beautiful things. He renames Brenda Wendy, and they start a hopeful if strange relationship. It might have a chance if it weren't for Peter's murderous secrets.
Fear in the Night (1972)
In London, the twenty-two-year-old Peggy Heller meets and marries the school teacher Robert Heller after recovering from a nervous breakdown. Robert works in the countryside in a private school owned by the headmaster Michael Carmichael, who is married to Molly Carmichael. On the eve of moving to the country with her husband, Peggy spends the night at the boardinghouse of Mrs. Beamish and is attacked by a man with a mechanical arm in her room. Mrs. Beamish calls the doctor but they do not believe in Peggy. On the next morning, she heads with Robert to the country and moves to the cottage in the school. But soon Peggy is attacked by the same man but Robert does not believe in her. Then she meets The Headmaster and realizes that he has a mechanical arm. What will happen next?
Demons of the Mind (1972)
Baron Zorn keeps his teenaged children locked up and drugged, fearing that his insane wife passed along a congenital curse to them before her own suicidal death. Elizabeth escapes for a brief tryst with a local before being recaptured and subjected to a bleeding process to 'draw out the bad blood.' Emil keeps trying to escape but is thwarted time and again by his aunt Hilda who runs the house like a prison. One reason the siblings have to be kept apart is their incestuous attraction to each other. Local wenches are being murdered in the woods, and the superstitious peasants think demons are responsible. A wandering Priest dedicates himself to root out the evil but isn't taken seriously. Arriving at the castle are two more interested parties: Mountebank scientist-huckster Falkenberg stands to make a small fortune if his strange apparatus can cure the children of their inherited evil. Young Carl simply wants to rescue Elizabeth. 
To the Devil a Daughter (1976)
An excommunicated priest sets up a satanic cult that only looks Catholic on the outside. He convinces a man to sign over his daughter's soul so that she will become the devil's representative on earth on her eighteenth birthday, but as that day nears, the man seeks the help of an American occult novelist to save his daughter, both physically and spiritually.