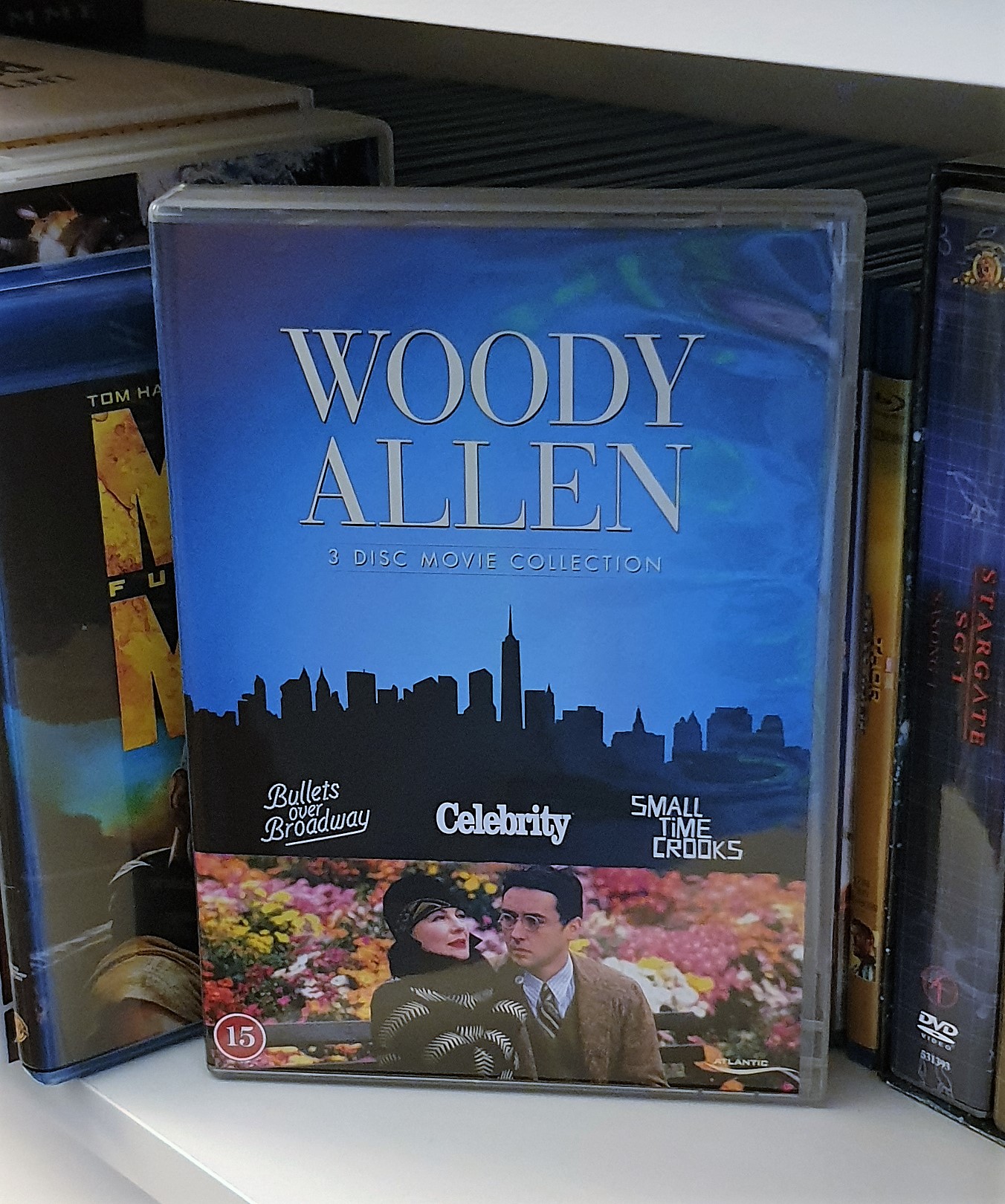 Format: DVD
Genre: Action
Location: Fi16a
Woody Allen: 3 Disc Movie Collection (1994)
This collection contains:
Small Time Crooks (2000)
Dishwasher and small-fry criminal Ray hits on a plan with his partners in crime to re-open a local pizza place and dig through to the bank down the street. As his wife can't cook pizza but does great cookies, that's what they sell. While the no-hope tunnellers get lost underground, the cookie operation really takes off and the team finds themselves rich business people. But the other local money isn't quite ready to accept them. 
Celebrity (1998)
New York City. Forty-year-old Lee Simon, a critically panned two-time novelist who works as a travel writer (a job he hates) to earn a steady living, tells his shocked wife of sixteen years, English teacher Robin Simon, that he wants a divorce. Although he had not been happy with Robin for some time, she who he feels is a bundle of Catholic repressions and neuroses especially when it comes to sex, Lee finally came to the conclusion about wanting a divorce upon attending his high school reunion and seeing a roomful of losers, he believing he turning into one of them if he didn't make a drastic change. He gets a job working as a journalist for an entertainment magazine, while he writes screenplays on the side, he believes the latter a good stepping stone to finishing his third novel if the screenplays work out.
Bullets Over Broadway (1994)
1920s Broadway. Playwright David Shayne considers himself an artist and surrounds himself with like-minded people, most struggling financially as they create art for themselves, not the masses. David, however, believes the failure of his first two plays was because he gave up creative control to other people who didn't understand the material. As such, he wants to direct his just-completed third play, "God of Our Fathers", insider scuttlebutt being that it may very well make David the toast of Broadway. With David having no directing history, David's regular producer, Julian Marx, can't find any investors,… until a single investor who will finance the entire production comes onto the scene. He is Nick Valenti, a big-time mobster, with the catch being that his dimwitted girlfriend, non-actress Olive Neal, get the lead role. A hesitant David and Julian, who are able to talk Nick into them giving Olive one of the two female supporting roles instead.