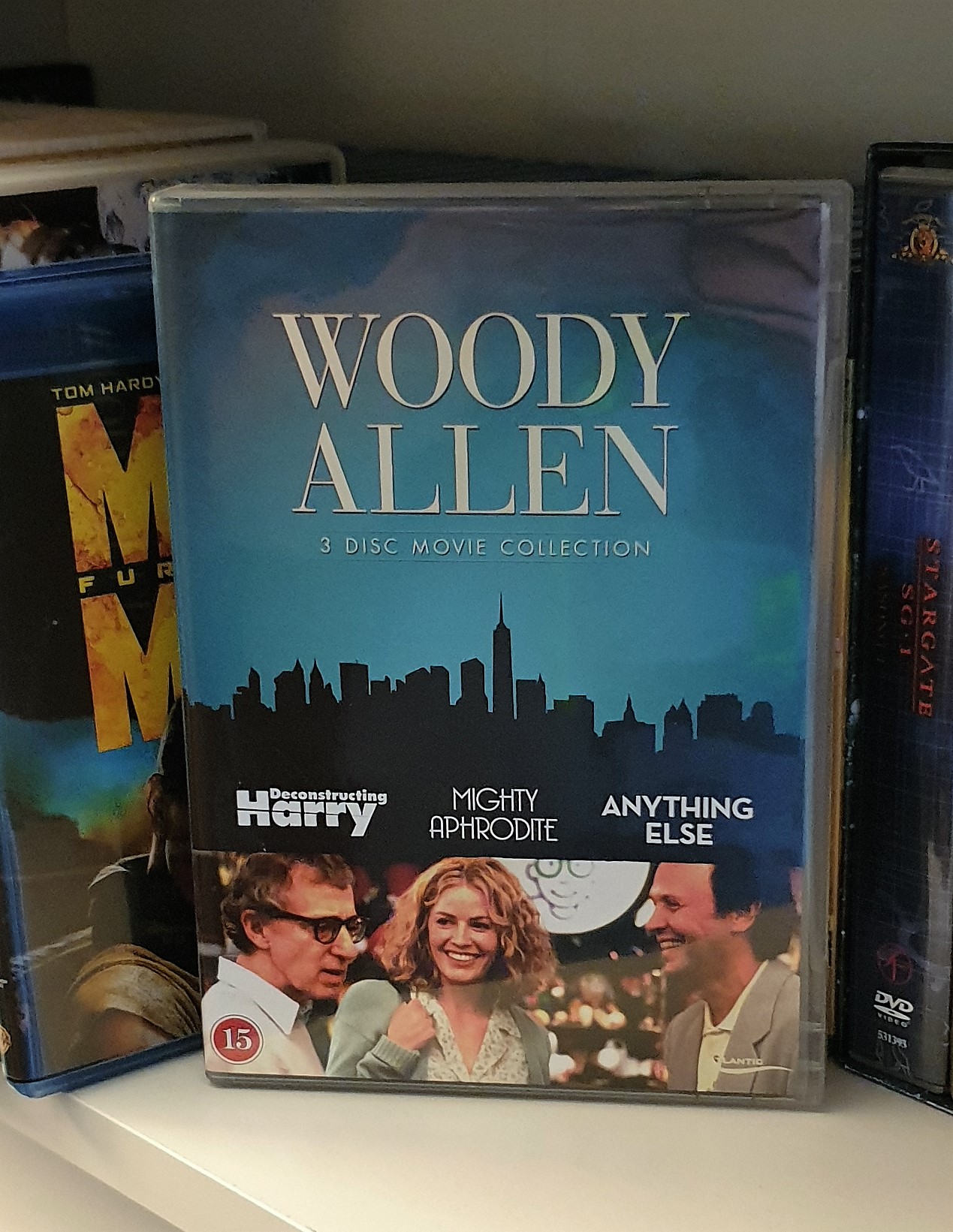 Format: DVD
Genre: Comedy
Location: Fi16a
Woody Allen: 3 Disc Movie Collection (1995)
This collection contains:
Anything Else (2003)
Jerry Falk and David Dobel, who meet at a business meeting, become fast friends. Their commonality is that they are both fledgling New York-based comedy writers, largely writing material for stand-ups, are Jewish (although David is an atheist), and are each bundle of different neuroses. Their big difference is that Jerry is twenty-one, while David is sixty, with forty more years worth of life experience, knowledge, and neuroses. While Jerry writes full time – he also working on a novel – David has kept his day job as a public school teacher just in case. In their relationship, David becomes somewhat of Jerry's mentor, providing advice on Jerry's life issues, most which revolve around the fact that Jerry is a product of inertia, he having trouble leaving anyone. That's why Jerry's still with the one and only manager he's ever had, Harvey Wexler. 
Deconstructing Harry (1997)
Harry Block is a well-regarded novelist whose tendency to thinly-veil his own experiences in his work, as well as his unapologetic attitude and his proclivity for pills and whores, has left him with three ex-wives that hate him. As he is about to be honored for his writing by the college that expelled him, he faces writer's block and the impending marriage of his latest flame to a writer friend. As scenes from his stories and novels pass and interact with him, Harry faces the people whose lives he has affected – wives, lovers, his son, his sister.
Mighty Aphrodite (1995)
Lenny and Amanda have an adopted son Max who turns out to be brilliant. Lenny becomes obsessed with finding Max's real parents because he believes that they too must be brilliant. When he finds that Linda Ash is Max' real mother, Lenny is disappointed. Linda is a prostitute and porn star. On top of that, she is quite possibly the dumbest person Lenny has ever met. Interwoven is a Greek chorus linking the story with the story of Oedipus.