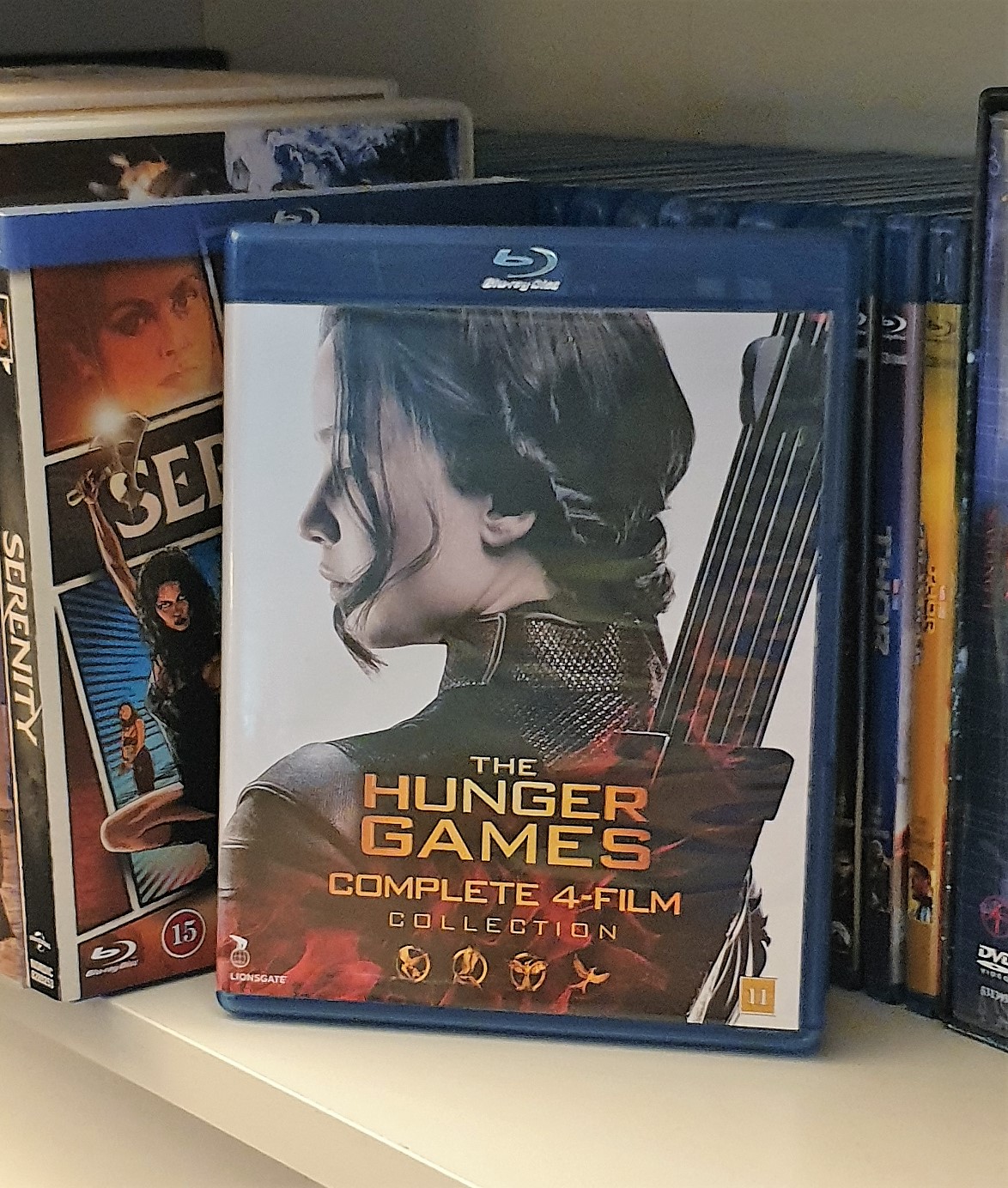 Format Blu-ray
Genre: Action
Location: Fi20a
The Hunger Games: Complete 4-Film Collection (2012)
This collection contains:
The Hunger Games (2012)
In a dystopian future, the totalitarian nation of Panem is divided into 12 districts and the Capitol. Each year two young representatives from each district are selected by lottery to participate in The Hunger Games. Part entertainment, brutal retribution for a past rebellion, the televised games are broadcast throughout Panem. The 24 participants are forced to eliminate their competitors while the citizens of Panem are required to watch. When 16-year-old Katniss' young sister, Prim, is selected as District 12's female representative, Katniss volunteers to take her place. She and her male counterpart, Peeta, are pitted against bigger, stronger representatives, some of whom have trained for this their whole lives.
The Hunger Games: Catching Fire (2013)
Twelve months after winning the 74th Hunger Games, Katniss Everdeen and her partner Peeta Mellark must go on what is known as the Victor's Tour, wherein they visit all the districts, but before leaving, Katniss is visited by President Snow who fears that Katniss defied him a year ago during the games when she chose to die with Peeta. With both Katniss and Peeta declared the winners, it is fueling a possible uprising. He tells Katniss that while on tour she better try to make sure that she puts out the flames or else everyone she cares about will be in danger.
The Hunger Games: Mockingjay – Part 1 (2014)
With the Games destroyed, Katniss Everdeen, along with Gale, Finnick, and Beetee, end up in the so thought "destroyed" District 13. Under the leadership of President Coin and the advice of her friends, Katniss becomes the "Mockingjay", the symbol of rebellion for the districts of Panem.
The Hunger Games: Mockingjay – Part 2 (2015)
After young Katniss Everdeen agrees to be the symbol of rebellion, the Mockingjay, she tries to return Peeta to his normal state, tries to get to the Capitol, and tries to deal with the battles coming her way…but all for her main goal: assassinating President Snow and returning peace to the Districts of Panem. As her squad starts to get smaller and smaller, will she make it to the Capitol? Will she get revenge on Snow or will her target change? Will she be with her "Star-Crossed Lover," Peeta, or her long-time friend, Gale? Deaths, bombs, bow and arrows, a love triangle, hope.