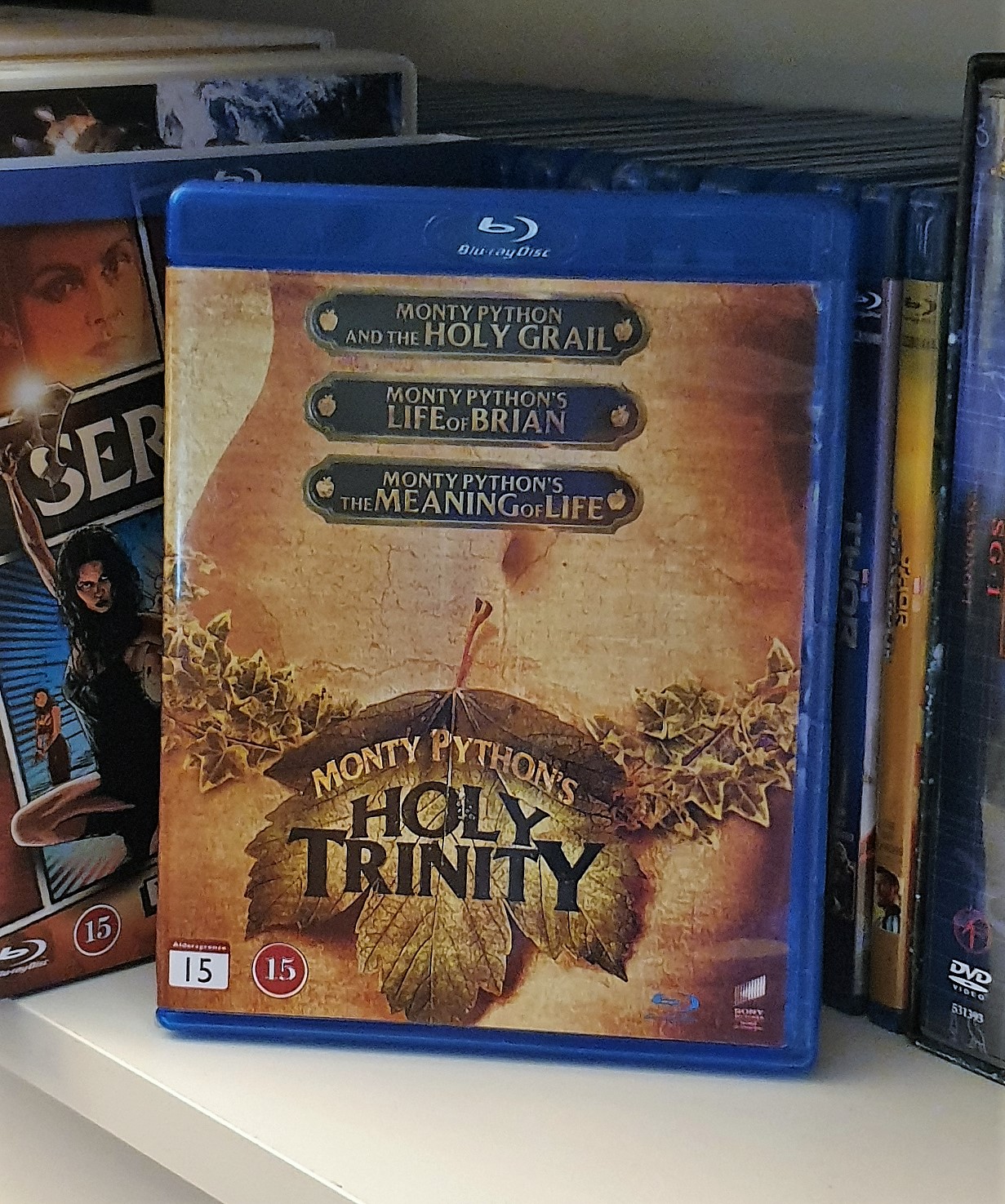 Format Blu-ray
Genre: Comedy
Location: Fi20a
Monty Python's Holy Trinity (1975)
This collection contains:
Monthy Python and the Holy Grail (1975)
History is turned on its comic head when, in 10th century England, King Arthur travels the countryside to find knights who will join him at the Round Table in Camelot. Gathering up the men is a tale in itself but after a bit of a party at Camelot, many decide to leave only to be stopped by God who sends them on a quest: to find the Holy Grail. After a series of individual adventures, the knights are reunited but must face a wizard named Tim, killer rabbits and lessons in the use of holy hand grenades. Their quest comes to an end however when the police intervene – just what you would expect in a Monty Python movie. 
Monty Python's Life of Brian (1979)
The story of Brian of Nazareth, born on the same day as Jesus of Nazareth, who takes a different path in life that leads to the same conclusion. Brian joins a political resistance movement aiming to get the Romans out of Judea. Brian scores a victory of sorts when he manages to paint political slogans on an entire wall in the city of Jerusalem. The movement is not very effective but somehow Brian becomes a prophet and gathers his own following. His fate is sealed however and he lives a very short life.
The Meaning of Life (1983)
Why are we here, what's it all about? The Monty Python-team is trying to sort out the most important question on Earth: what is the meaning of life? They do so by exploring the various stages of life, starting with birth. A doctor seems more interested in his equipment than in delivering the baby or caring for the mother, a Roman Catholic couple has quite a lot of children because 'every sperm is sacred'. In the growing and learning part of life, catholic schoolboys attend a rather strange church service and ditto sex education lesson. Onto war, where an officer's plan to attack is thwarted by his underlings wanting to celebrate his birthday and an officer's leg is bitten off by presumably an African tiger. At middle age a couple orders 'philosophy' at a restaurant, after which the film continues with live organ transplants. The autumn years are played in a restaurant, which, after being treated to the song 'Isn't It Awfully Nice to Have a Penis?' by an entertainer, sees the arrival.