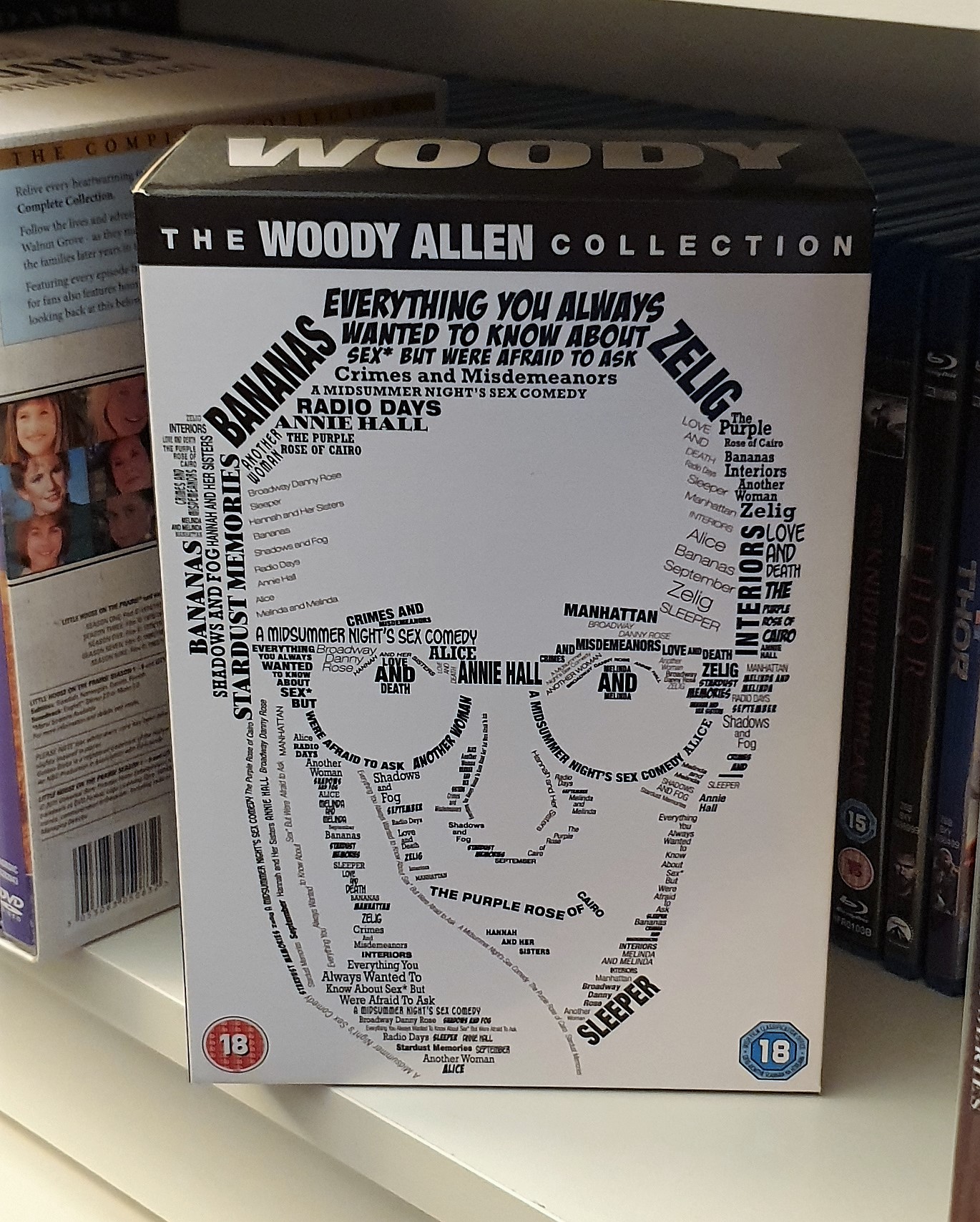 Format: DVD
Genre: Comedy, Drama
Location: Fi19a
The Woody Allen Collection (2005)
This collection contains:
A Midsummer Night's Sex Comedy (1982)
Centered around a weekend party at the home of inventor Andrew Hobbs and his wife Adrian, attended by randy doctor Maxwell Jordan, his nurse Dulcy, renowned philosopher Dr.Leopold Sturgis and his fiancée, this is a light comedy concerning their various emotional, intellectual and sexual entanglements, loosely based on Ingmar Bergman's 'Smiles of a Summer Night' .
The Purple Rose of Cairo (1985)
Cecilia is a waitress in New Jersey during the Depression and is searching for an escape from her dreary life. Tom Baxter is a dashing young archaeologist in the film "The Purple Rose of Cairo." After losing her job Cecilia goes to see the film in hopes of raising her spirits. Much to her surprise Tom Baxter walks off the screen and into her life. There's only one problem. Tom isn't real. Meanwhile Hollywood is up in arms when they discover that other Tom Baxters are trying to leave the screen in other theatres. Will Tom ever return and finish the film or will he decide to stay in the real world?
Stardust Memory (1980)
Renowned filmmaker Sandy Bates is in a professional transition, directing largely comedies early in his career now wanting to direct more serious movies so that he can explore the meaning of life, most specifically his own. Most are fighting him all along the way, including the movie-going public, who continually tell him that they love his movies especially the earlier funny ones, to studio executives who are trying to insert comic elements wherever possible into his current movie in production. He reluctantly agrees to attend a weekend-long film festival of his movies. Despite the throng of requests for his time, he is further able to reflect on his life as he addresses the questions at the post-screening Q&A sessions. He also reflects specifically on his love life as his current girlfriend, married Isobel, shows up unexpectedly, and as he starts to fall for festival attendee Daisy.
Zelig (1983)
Fictional documentary about the life of human chameleon Leonard Zelig, a man who becomes a celebrity in the 1920s due to his ability to look and act like whoever is around him. Clever editing places Zelig in real newsreel footage of Woodrow Wilson, Babe Ruth, and others.
Broadway Danny Rose (1984)
Danny Rose is a manager of artists, and although he's not very successful, he nevertheless goes out of his way to help his acts. So when Lou Canova, a singer who has a chance of making a come-back, asks Danny to help him with a problem, Danny helps him. This problem is Lou's mistress Tina. Lou wants Tina to be at his concerts, otherwise, he can't perform, but he's married, so Danny has to take her along as if she was his girlfriend. Danny, however, gets more than he has bargained for when two mobsters come looking for the guy who has hurt their brother by stealing the heart of Tina, the girl he loves.
Crimes and Misdemeanors (1989)
Judah Rosenthal is an ophthalmologist and a pillar of the community who has a big problem: his mistress Dolores Paley has told him that he is to leave his wife and marry her – as he had promised to do – or she will tell everyone of their affair. When he intercepts a letter Dolores has written to his wife Miriam, he is frantic. He confesses all to his shady brother Jack who assures him that he has friends who can take care of her. Meanwhile, filmmaker Cliff Stern is having his own problems. He's been working on a documentary film for some time but has yet to complete it. He and his wife Wendy have long ago stopped loving one another and are clearly on their way to divorce. He falls in love with Halley Reed who works with a producer, Lester. Cliff soon finds himself making a documentary about Lester and hates every minute of it.
Alice (1990)
Alice Tate, mother of two, with a marriage of 16 years, finds herself falling for the handsome sax player, Joe. Stricken with a backache, she consults Dr. Yang, an oriental herbalist who realizes that her problems are not related to her back but in her mind and heart. Dr. Yang's magical herbs give Alice wondrous powers, taking her out of a well-established rut.
Annie Hall (1977)
Alvy Singer, a forty-year-old twice divorced, neurotic, intellectual Jewish New York stand-up comic, reflects on the demise of his latest relationship, to Annie Hall, an insecure, flighty, Midwestern WASP aspiring nightclub singer. Unlike his previous relationships, Alvy believed he may have worked out all the issues in his life through fifteen years of therapy to make this relationship with Annie last, among those issues being not wanting to date any woman that would want to date him, and thus subconsciously pushing those women away. Alvy not only reviews the many ups and many downs of their relationship but also reviews the many facets of his makeup that led to him starting to date Annie. Those facets include growing up next to Coney Island in Brooklyn, being attracted to the opposite sex for as long as he can remember, and enduring years of Jewish guilt with his constantly arguing parents.
Manhattan (1979)
Forty-two-year-old Isaac Davis has a romanticized view of his hometown, New York City, most specifically Manhattan, as channeled through the lead character in the first book he is writing, despite his own Manhattan-based life being more of a tragicomedy. He has just quit his job as a hack writer for a bad television comedy, he, beyond the ten second rush of endorphins during the actual act of quitting, now regretting the decision, especially as he isn't sure he can live off his book-writing career. He is paying two alimonies, his second ex-wife, Jill Davis, a lesbian, who is writing her own tell-all book of their acrimonious split. The one somewhat positive aspect of his life is that he is dating a young woman named Tracy, although she is only seventeen and still in high school. Largely because of their differences a big part of which is due to their ages, he does not see a long term future with her.
Melinda and Mellinda (2004)
Al, Louise, Max, and Sy – four literary types who work in the theater business – are discussing what they believe to be the real-life truths underlying their work, Max who writes primarily tragic plays, and Sy who writes primarily comic plays. Al proceeds to tell them a real story of a troubled woman named Melinda Robicheaux showing up unexpectedly at a door in the middle of an important business dinner party. Melinda long ago left her physician husband to embark on a relationship with who she initially believed to be the man of her dreams, which ended up not being the case. Melinda tries to put her life back together with the help of select people at the dinner party, some who have their own ulterior motives. Melinda's appearance also opens up the cracks existing in the marriage of one of the couples at the dinner party, while it leads to the dissolution of a friendship that has existed since college.
Another Woman (1988)
Having recently turned fifty, Marion feels that she has led a so far blessed life. The well-respected Dean of Philosophy at a women's college, she is currently on sabbatical to write her latest book. Although her first husband Sam died tragically fourteen years ago from a mixture of alcohol and pills, she has recently remarried to Ken, who, married at the time, pursued her, while Ken's writer friend, Larry, also professed his love for her. She has a good relationship with her step-daughter, Laura, seemingly better than Laura has with either Ken or Laura's own volatile mother, Kathy. Between her and her brother Paul, Marion always had the attention of their academic father. And she and Ken have a wide circle of friends with who they regularly and willingly socialize. But a series of incidents with these people in her life makes Marion wonder about the decisions that she's made, most specifically whether her cerebral and judgmental nature has been alienating to those around her.
Bananas (1971)
Fielding Mellish (a consumer products tester) becomes infatuated with Nancy (a political activist). He attends demonstrations and tries in other ways to convince her that he is worthy of her love, but Nancy wants someone with greater leadership potential. Fielding runs off to San Marcos where he joins the rebels and eventually becomes President of the country. While on a trip to the states, he meets Nancy again and she falls for him now that he is a political leader.
Everything You Always Wanted to Know About Sex But Were Afraid to Ask (1972)
Seven segments related to one another only in that they all purport to be based on sections of the book by David Reuben. The segments range from "Do Aphrodisiacs Work?" in which a court jester gives an aphrodisiac to the Queen and is, in the end, beheaded to "What Happens During Ejaculation?" in which we watch "control central" during a successful seduction.
Hannah and Her Sisters (1986)
Hannah, Holly, and Lee are adult sisters from a show business family, their boozy actress mother who still believes she's an ingénue that can attract any man she wants, despite still being married to the girls' father, Evan. Hannah, on her second marriage to a man named Elliot, a financial advisor, is the success of the family, taking a break from her acting career to raise her children. Everyone turns to her for advice, while she never talks to others about what she needs or feels. Her first husband, Mickey, is a comedy show writer and hypochondriac, who is going through a crisis as he mistakenly believes he will die soon without a clear belief, as a non-practicing Jew, of what will happen to him in the afterlife. Single Holly is the insecure flaky sister, a struggling and thus continually unemployed actress, who has just started a catering business with her actress friend April, in order to do something constructive with her life.
Radio Days (1987)
Woody Allen's sentimental reminiscence about the golden age of radio. A series of vignettes involving radio personalities is intertwined with the life of a working-class family in Rockaway Beach, NY circa 1942.
September (1987)
Everyone is gathering at Lane's place for the weekend, and everyone's in love. Unfortunately, each beloved loves somebody else, and no one seems to realize it.
Interiors (1978)
The story of a very dysfunctional family and what happens when the parent's divorce. Eve (Geraldine Page) and Arthur (EG Marshall) are a 60-something couple, recently-separated. They have three adult daughters – Renata (Diane Keaton), Joey (Mary Beth Hurt) and Flynn (Kristin Griffith). Renata is a poet and is married to Frederick (Richard Jordan). Joey is (reluctantly) in advertising and is married to Mike (Sam Waterston). Flynn is a film and TV actress. Eve is an incredibly negative woman and this has had a toxic effect on her children. This results in stifling, unsupportive relationships and joyless lives.
Love and Death (1975)
In Russia, Boris Grushenko is in love with his pseudo-intellectual cousin Sonja, who loves him since he too is a pseudo-intellectual, but she is not in love with him. Instead, she is in love with his brother Ivan. But as Ivan doesn't seem to return her affections, she is determined to marry someone – anyone – except Boris. If that person isn't the perfect husband, then she has to find a suitable lover in addition. Boris' pursuit of Sonja has to take a back seat in his life when he, a pacifist and coward, is forced to join the Russian Army to battle Napoleon's forces which have just invaded Austria. Despite Sonja not being in the picture while he's away at war, Boris' thoughts do not stray totally from women. Although they take these two divergent paths in their lives, those paths cross once again as they, together, both try to find the perfect spouse and lover, and try to assassinate Napoleon.
Shadows and Fog (1991)
A small and insignificant bookkeeper, Kleinman, is awoken one night by his neighbors who wants his help to track down a strangler who has been killing people all over town. The citizens form vigilance committees, but when Kleinman has dressed, his neighbors have disappeared. Meanwhile, a circus has come to town. Irmy and Paul are two of the artists. After a fight, Irmy leaves the circus in the middle of the night. Eventually, she meets Kleinman, scared and alone.
Sleeper (1973)
Miles, a nebbishy clarinet player who also runs a health food store in NYC's Greenwich Village, is cryogenically frozen, and brought back – 200 years in the future, by anti-government radicals in order to assist them in their attempt to overthrow the oppressive government. When he goes off on his own, he begins to explore this brave new world, which has Orgasmatron booths to replace sex and confessional robots.