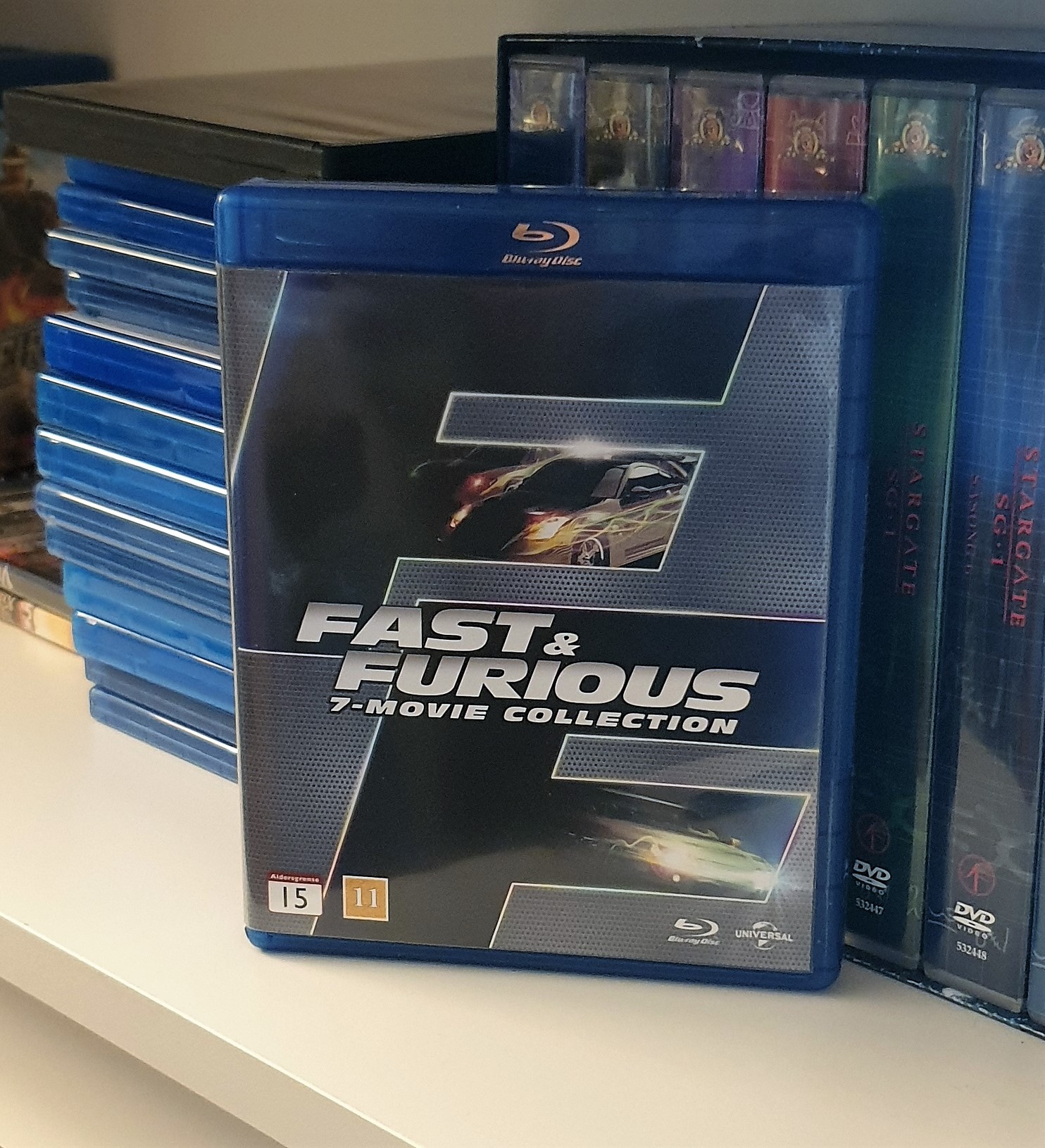 Format: Blu-ray
Genre: Action
Location: Fi17a
The Fast and the Furious: 7-Movie Collection (2001)
This collection contains:
The Fast and the Furious (2001)
Los Angeles street racer Dominic Toretto falls under the suspicion of the LAPD as a string of high-speed electronics truck robberies rocks the area. Brian O'Connor, an officer of the LAPD, joins the ranks of Toretto's highly skilled racing crew undercover to convict Toretto. However, O'Connor finds himself both enamored with this new world and in love with Toretto's sister, Mia. As a rival racing crew gains strength, O'Connor must decide where his loyalty really lies.
2 Fast 2 Furious (2003)
EX LAPD cop Brian O'Conner (Paul Walker) teams up with his ex-con friend Roman Pearce (Tyrese Gibson) and works with undercover U.S. Customs Service agent Monica Fuentes (Eva Mendes) to bring Miami-based drug lord Carter Verone (Cole Hauser) down.
The Fast and the Furious: Tokyo Drift (2006)
An American teenager named Sean Boswell is a loner in school, however, he challenges his rival for an illegal street racing, and he totals his car at the end of the race. To avoid time in prison he is sent to Tokyo to live with his father who is in the military. As soon as he arrives he discovers a new, fun but dangerous way of street racing in the underworld of the streets of Tokyo, Japan.
Fast and Furious (2009)
Heading back to the streets where it all began, two men rejoin two women to blast muscle, tuner and exotic cars across Los Angeles and floor through the Mexican desert. When a crime brings them back to L.A., fugitive ex-con Dom Toretto reignites his feud with agent Brian O'Connor. But as they are forced to confront a shared enemy, Dom and Brian must give in to an uncertain new trust if they hope to outmaneuver him. And from convoy heists to precision tunnel crawls across international lines, two men will find the best way to get revenge: push the limits of what's possible behind the wheel.
Fast Five (2011)
Former cop Brian O'Conner partners with ex-con Dom Toretto on the opposite side of the law. Since Brian and Mia Toretto broke Dom out of custody, they've blown across many borders to elude authorities. Now backed into a corner in Rio de Janeiro, they must pull one last job in order to gain their freedom. As they assemble their elite team of top racers, the unlikely allies know their only shot of getting out for good means confronting the corrupt businessman who wants them dead. But he's not the only one on their tail. Hard-nosed federal agent Luke Hobbs never misses his target. When he is assigned to track down Dom and Brian, he and his strike team launch an all-out assault to capture them. But as his men tear through Brazil, Hobbs learns he can't separate the good guys from the bad. Now, he must rely on his instincts to corner his prey before someone else runs them down first.
Fast and Furious 6 (2013)
Since Dom (Diesel) and Brian's (Walker) Rio heist toppled a kingpin's empire and left their crew with $100 million, our heroes have scattered across the globe. But their inability to return home and living forever on the lam have left their lives incomplete. Meanwhile, Hobbs (Johnson) has been tracking an organization of lethally skilled mercenary drivers across 12 countries, whose mastermind (Evans) is aided by a ruthless second-in-command revealed to be the love Dom thought was dead, Letty (Rodriguez). The only way to stop the criminal outfit is to outmatch them at street level, so Hobbs asks Dom to assemble his elite team in London. Payment? Full pardons for all of them so they can return home and make their families whole again.
Furious 7 (2013)
Dominic and his crew thought they'd left the criminal mercenary life behind. They'd defeated international terrorist Owen Shaw and went their separate ways. But now, Shaw's brother, Deckard Shaw, is out killing the crew one by one for revenge. Worse, a Somalian terrorist called Jakarde and a shady government official called "Mr. Nobody" are both competing to steal a computer terrorism program called "God's Eye," that can turn any technological device into a weapon. Torretto must reconvene with his team to stop Shaw and retrieve the God's Eye program while caught in a power struggle between the terrorist and the United States government.