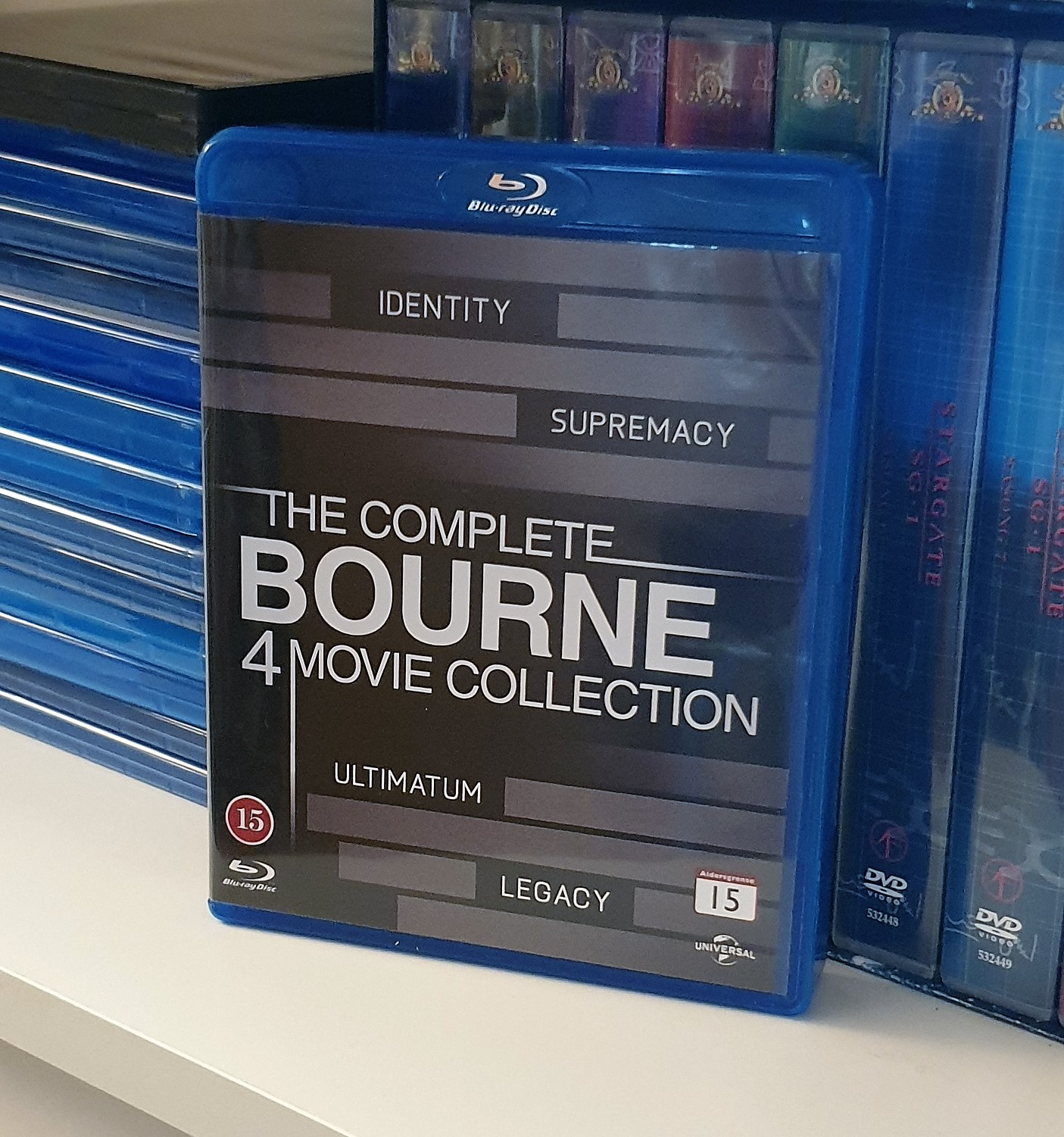 Format: Blu-ray
Genre: Action
Location: Fi17a
The Complete Bourne Collection (2002)
This collection contains:
The Bourne Identity (2002)
Based very loosely on Robert Ludlum's novel, the Bourne Identity is the story of a man whose wounded body is discovered by fishermen who nurse him back to health. He can remember nothing and begins to try to rebuild his memory based on clues such as a Swiss bank account, the number of which is implanted in his hip. He soon realizes that he is being hunted and takes off with Marie on a search to find out who he is – and why he is being hunted.
The Bourne Supremacy (2004)
After escaping from the emotional and physical pain he previously encountered. Jason Bourne and his girlfriend Marie begin a new life as far away as possible. But when an assassination attempt on Bourne goes horribly wrong, Bourne must re-enter the life he wanted to leave behind, in order to find out the truth why they are still after him.
The Bourne Ultimatum (2007)
Bourne is once again brought out of hiding, this time inadvertently by London-based reporter Simon Ross who is trying to unveil Operation Blackbriar–an upgrade to Project Treadstone–in a series of newspaper columns. Bourne sets up a meeting with Ross and realizes instantly they're being scanned. Information from the reporter stirs a new set of memories, and Bourne must finally, ultimately, uncover his dark past whilst dodging The Company's best efforts in trying to eradicate him. 
The Bourne Legacy (2012)
The events in this movie take place around the same time as the events in The Bourne Ultimatum (2007). When a British reporter was writing an expose about Black Ops operations Treadstone and Black Briar, and the ones responsible for them are concerned. And when Jason Bourne, former Treadstone operative got the file on Treadstone and Black Briar and gave it to Pamela Landy who then passed it to the media. When the men behind Treadstone and Black Briar learn of this, they're concerned how this will affect other ops they have. They decide it's best to shut down all ops and make sure to make everyone involved disappears. They try to take out Aaron Cross who is part of another op called Outcome, but he manages to survive. He then seeks out Dr. Marta Shearing who worked on him when he began. It seems part of the program is for all subjects to take medications but he has run out, which is why he seeks her. But someone tries to kill her. He saves her and she tells him, he should have stopped.