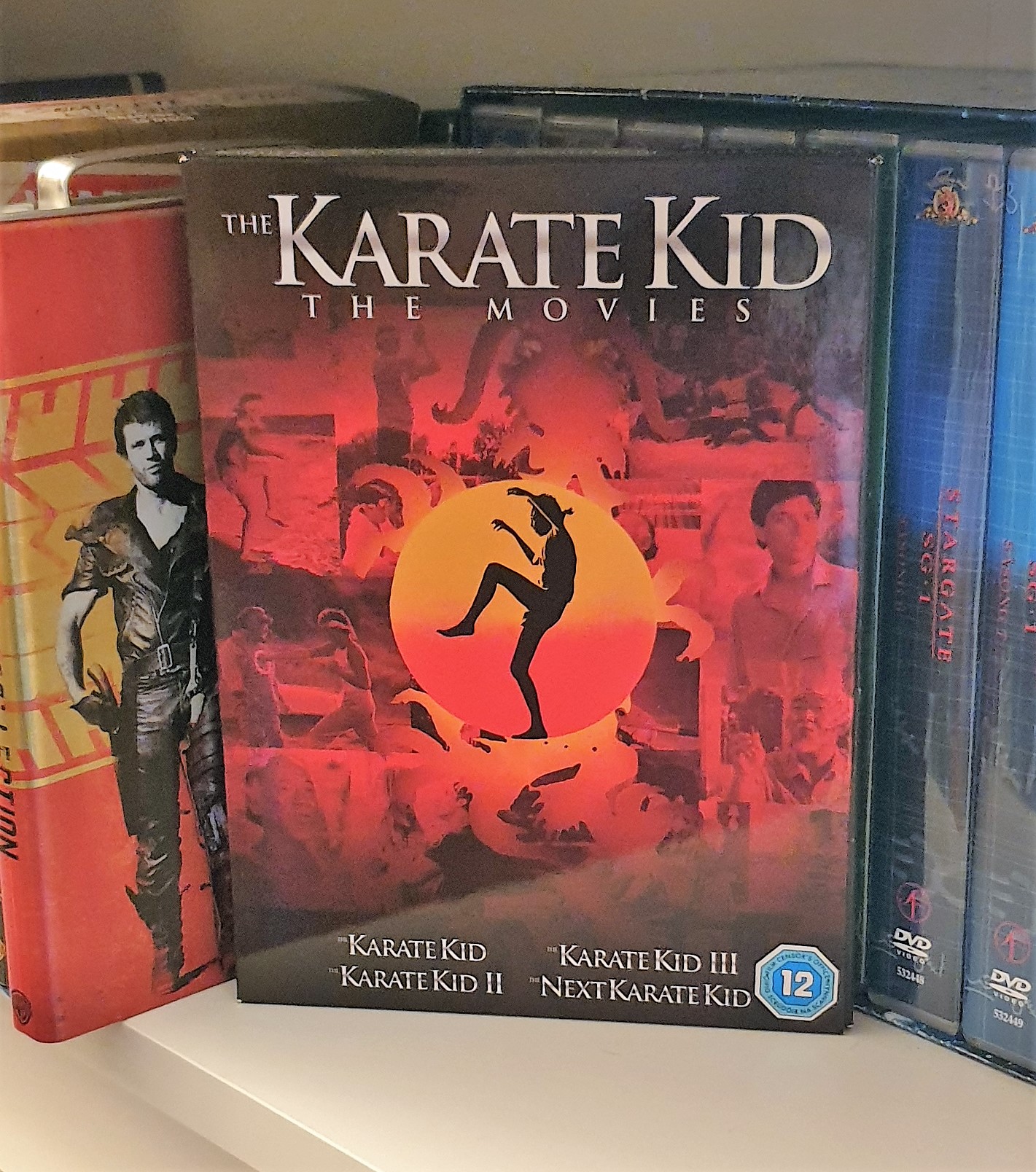 Format: DVD
Genre: Action, Family
Location: Fi18a
The Karate Kid: The Movies (1984)
This collection contains:
The Karate Kid (1984)
Daniel and his mother move from New Jersey to California. She has a wonderful new job, but Daniel quickly discovers that a dark-haired Italian boy with a Jersey accent doesn't fit into the blond surfer crowd. Daniel manages to talk his way out of some fights, but he is finally cornered by several who belong to the same karate school. As Daniel is passing out from the beating he sees Miyagi, the elderly gardener leaps into the fray and save him by outfighting half a dozen teenagers. Miyagi and Daniel soon find out the real motivator behind the boys' violent attitude in the form of their karate teacher. Miyagi promises to teach Daniel karate and arranges a fight at the all-valley tournament some months off. When his training begins, Daniel doesn't understand what he is being shown. Miyagi seems more interested in having Daniel paint fences and wax cars than teaching him Karate.
The Karate Kid: Part 2 (1986)
Picks up where the first movie (Karate Kid) leaves off. Mr. Miyagi and Daniel take a trip to Okinawa to visit Mr. Miyagi's dying father. After arriving Mr. Miyagi finds he still has feelings for an old love. This stirs up trouble with an old rival that he originally left Okinawa to avoid. In the meantime, Daniel encounters a new love and also makes some enemies.
The Karate Kid: Part 3 (1989)
John Kreese, his life in tatters after his karate school was defeated by Daniel and Miyagi, visits Terry Silver, a Vietnam War comrade. Terry is a ruthless businessman and martial arts expert, and he vows to help Kreese gain revenge on Daniel and Miyagi, and reestablish Cobra Kai. Upon returning from Okinawa, Daniel and Miyagi discover that their apartment building has been demolished, which brings Miyagi out of work. Going against Miyagi's wishes, Daniel uses his college funds to realize Miyagi's dream of opening a bonsai tree shop and becomes a partner in the bonsai business.
The Next Karate Kid (1994)
During a commemoration for Japanese soldiers fighting in the US Army during World War II, Mr. Miyagi meets the widow of his commanding officer. He gets to know her granddaughter Julie, an angry teenager who is still feeling the pain of losing both her parents in an accident and is having problems with her grandmother and her fellow pupils. Mr. Miyagi decides to teach her karate to get her through her pain and issues and back on the right path.