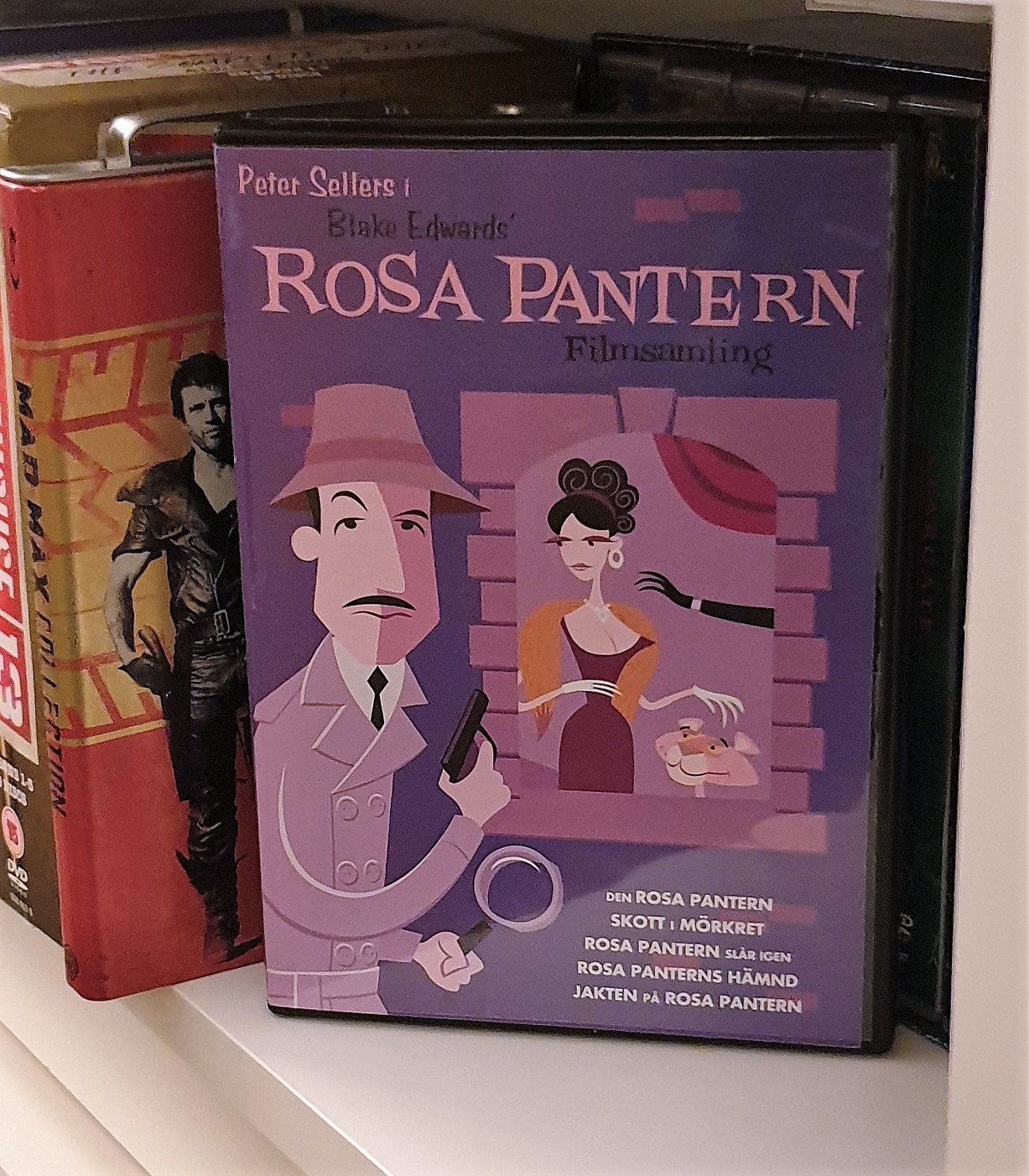 Format: DVD
Genre: Comedy
Location: Fi18a
The Pink Panther Film Collection (1964)
This collection contains:
The Pink Panther (1963)
The trademark of The Phantom, a renowned jewel thief, is a glove left at the scene of the crime. Inspector Clouseau, an expert on The Phantom's exploits, feels sure that he knows where The Phantom will strike next and leaves Paris for Switzerland, where the famous Lugashi jewel 'The Pink Panther' is going to be. However, he does not know who The Phantom really is, or for that matter who anyone else really is.
A Shot in the Dark (1964)
Ballon household: Benjamin Ballon and his wife Madame Ballon, Henri Lafarge the head Butler and his wife Madame Lafarge the Cook, Miguel Ostos the Head Chauffeur, Maria Gambrelli the third maid, Pierre the second Chauffeur and his wife Dudo the head Maid, Georges the Gardener and his wife Simone the second Maid, Maurice the second Butler. Affairs: Monsieur Ballon and Maria, Maria and Miguel, Henri and Dudo, Madame Ballon and Henri, Pierre and Simone. Who killed who: Madame Ballon accidentally shot Miguel because she suspected her husband of having an affair with Maria and wanted to kill him. Madame LaFarge killed Georges because he threatened to break up with her. Simone killed Dudo to eliminate her because she was in the way of her affair with Pierre. Monsieur Ballon killed Henri because he was having an affair with his wife. Blackmailers: Georges blackmailing Monsieur Ballon (Seen leaving Maria's room). Maurice blackmailing Madame Ballon. (Seen leaving Maria's room).
The Pink Panther Strikes Again (1976)
Charles Dreyfus escapes from the mental asylum and tries to kill Chief Inspector Jacques Clouseau. He doesn't succeed at first, so he takes on another strategy, namely to build a Doomsday machine and demand that someone else kills Jacques Clouseau, or Dreyfus will use the machine to wipe out whole cities and even whole countries… With about 22 assassins from all over the globe on his tail, Clouseau decides to find Dreyfus alone and put him back in the mental asylum. 
Revenge of the Pink Panther (1978)
To prove that he still is strong and powerful, Philippe Douvier decides to kill Chief Inspector Jacques Clouseau. Once Clouseau's death has been announced, the former Chief Inspector, Charles Dreyfus, feels much, much better and is released from the mental hospital. Jacques Clouseau tries to take advantage of his "death" and goes undercover with Cato to find out who tried to assassinate him.
Trail of the Pink Panther (1982)
The Pink Panther diamond is stolen once again from Lugash and the authorities call in Chief Inspector Clouseau from France. His plane disappears en-route. This time, famous French TV reporter Marie Jouvet sets out to solve the mystery and starts to interview everybody connected to Clouseau. Each interviewee Dreyfus, Sir Charles and Lady Lytton (an ex-wife of Clouseau), George Lytton, Hercule Lajoy (assistant in "A Shot In The Dark"), and Cato tell of their run-ins with Clouseau. She is also kidnapped by mobster Bruno Langlois who doesn't want Clouseau found but she continues and finds Clouseau Sr., Clouseau's father. Is Clouseau alive or is he dead? Each interview has not-yet-seen or famous clips from the previous movies (since Peter Sellers had sadly passed away) as Marie continues to get an honest view or impression of the great French detective.