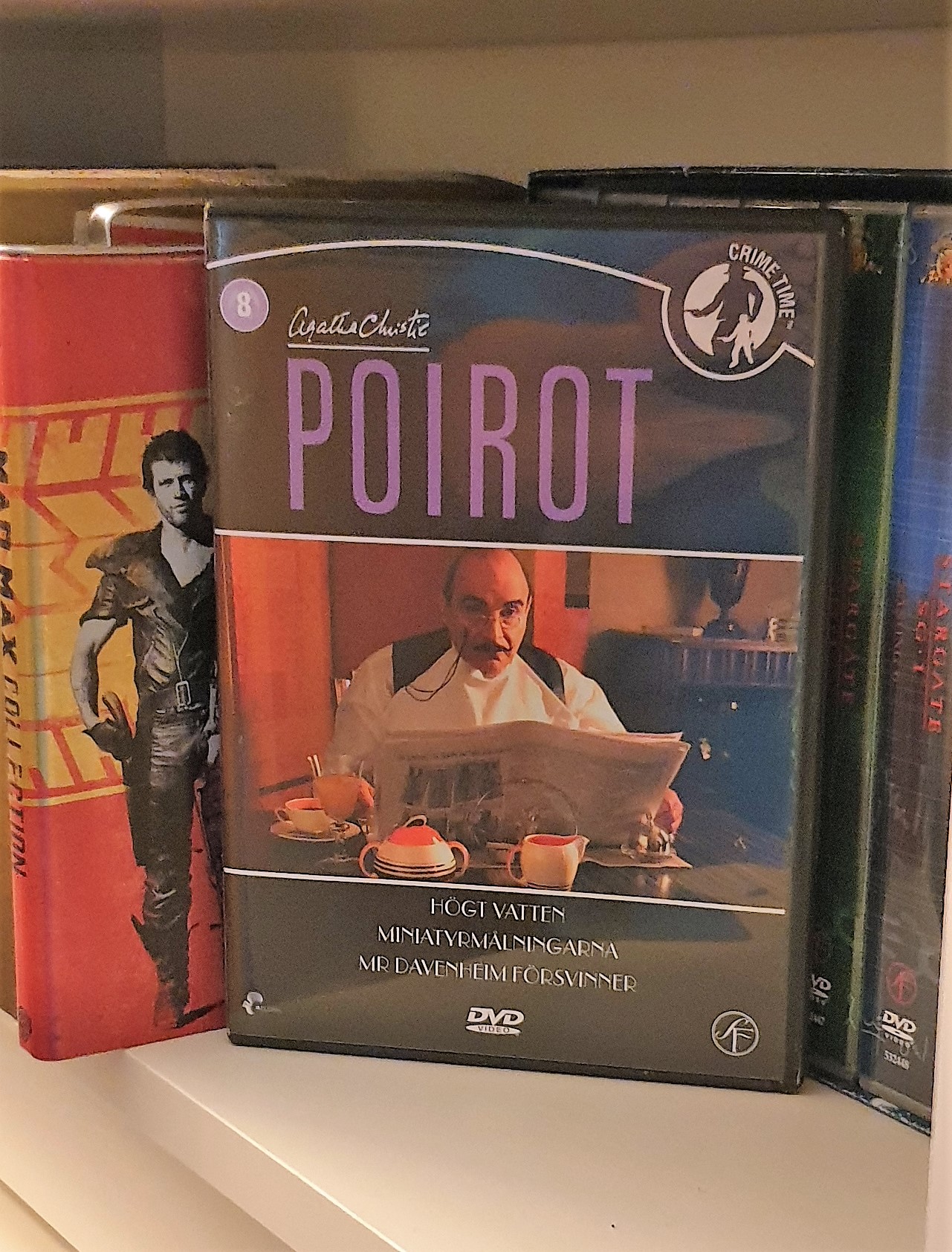 Format: DVD
Genre: Mystery
Location: Fi7b
Agatha Christie's Poirot 8 (2003)
This collection contains:
Taken at the Flood
Hercule Poirot finds himself trying to solve the mystery of the Cloade family. Rosaleen is the young widow of Gordon Cloade who was killed in a gas explosion in his London home. Rosaleen has inherited her late husband's substantial fortune and she and her brother David Hunter are refusing to share it with other members of Gordon Cloade's family. There have been persistent rumors that Rosaleen's first husband, an intrepid explorer, is still alive and as such would nullify her marriage to Gordon. What Poirot learns, however, is of a far greater deception that will alter everyone's perception of what they believe to their reality.
Double Sin
A bored Hercule Poirot announces that he is going to retire and suggests that he and Captain Hastings go to the seaside for a short holiday. While there, they meet a pleasant young woman who is delivering a set of miniature portraits to an American buyer on behalf of her aunt, an antique dealer. When they arrive at their destination she is shocked to find that the miniatures are missing and that the American had already bought them from an elderly lady more than an hour before. As Poirot has retired he leaves the case in the hands of Hastings who slowly puts the facts together and not surprisingly comes to the wrong conclusion. In the end, it is left to Poirot to suggest the solution to the crime and brings all of the parties together for an interesting lunch.
The Disappearance of Mr. Davenheim
A wealthy banker, Mathew Davenheim, disappears. He was last seen by his wife, leaving the grounds of his home. Suspicion falls on the head of Mr. Davenheim's long-time business rival Gerald Lowen. Chief Inspector Japp gets Poirot involved in the case. However, due to some intellectual bravado by Poirot, he and Japp have a wager that Poirot can't solve the case without leaving his flat, resulting in Poirot being confined to his flat for seven days. This leaves Hastings to gather the clues, and we know how good a sleuth he is… Meanwhile, in between trying to solve the case, Poirot is working on conjuring tricks and looking after a friend's parrot.