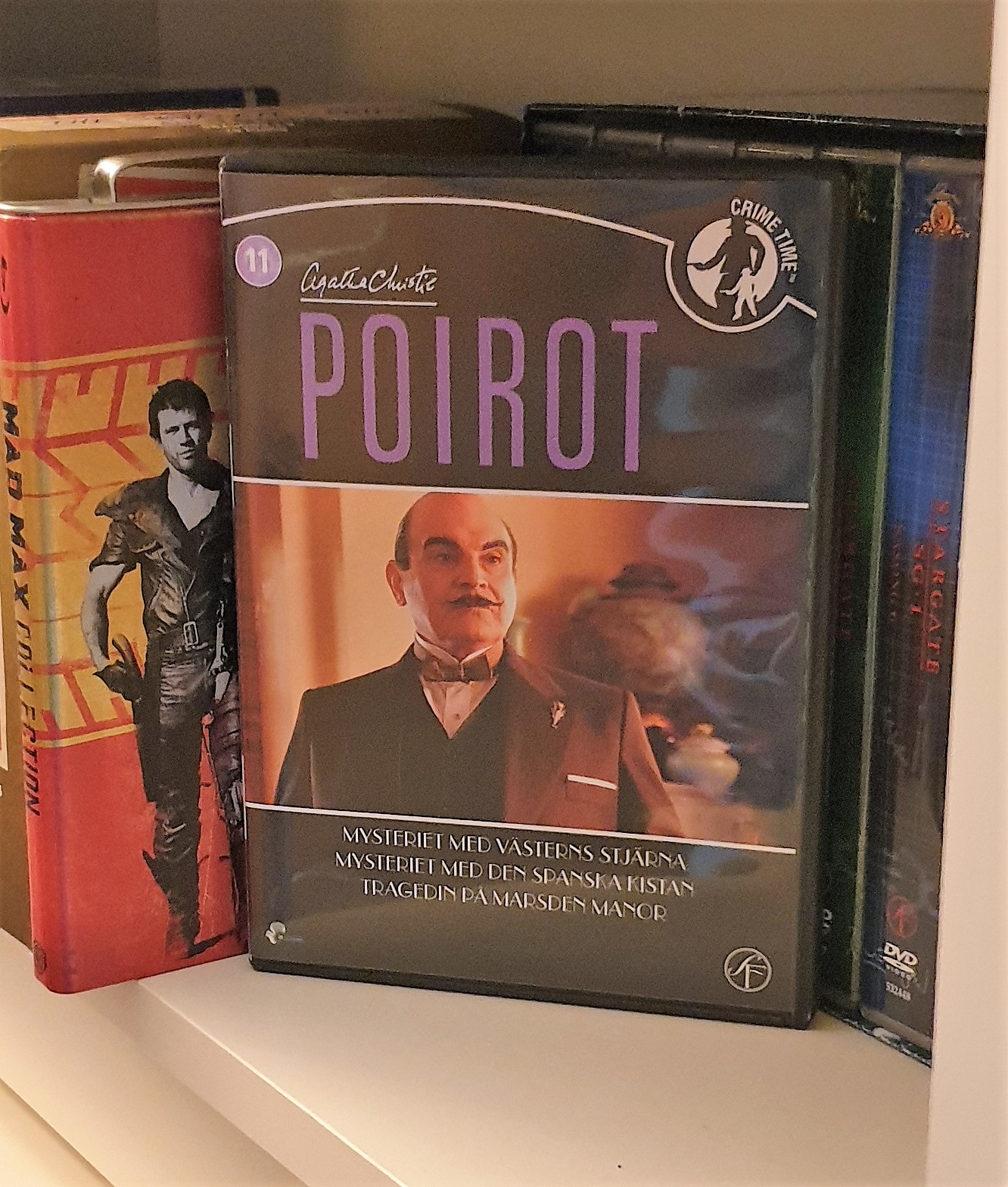 Format: DVD
Genre: Mystery
Location: Fi7b
Agatha Christie's Poirot 11 (2003)
This collection contains:
The Western Star
Poirot is thrilled to receive an invitation from renowned Belgian actress Marie Marvelle. She has been receiving anonymous notes about the Western Star, a valuable diamond purchased by her husband at a cut-rate price several years before. The notes speak to the mystical nature of the diamonds and that they should be returned to their rightful owners. The next day, Lady Yardly claims to have received similar notes about her own fabulous diamond, the Eastern Star. When Poirot and Hastings visit Lord and Lady Yardly the diamond is stolen in a daring robbery. Needless to say, none of this sits well with Poirot who finds he has a very tight knot to untie.
The Mystery of the Spanish Chest
Lady Chatterton asks for Poirot's assistance when she comes to fear for the safety of her friend, Marguerite Clayton. Specifically, she is convinced that Marguerite's husband Edward Clayton, known for his violent temper, will kill her. Poirot is invited to a party in order to meet Clayton, but he never shows up. The next day, Poirot finds himself being interviewed by Inspector Japp when Edward Clayton's body is found hidden in an elaborate Spanish chest located in the same room as the party the previous evening. When Marguerite's friend Major Rich is arrested for the murder, Poirot correctly deduces the true nature of the crime and the identity of the culprit. 
The Tragedy at Marsdon Manor
Having been lured to the village of Marsdon Leigh under false pretenses – the local hotel owner is unable to solve the crime in his own manuscript and so invites the detective to solve a "murder" – Poirot and Hastings are asked to look into the death of Mr. Maltravers, owner of the local manor house. The local rumor mill has it that the Marsdon Manor is haunted by several ghosts and Maltravers' wife is convinced that her husband was frightened to death. In the end, Poirot initiates a clever ruse to obtain a confession from the murderer.