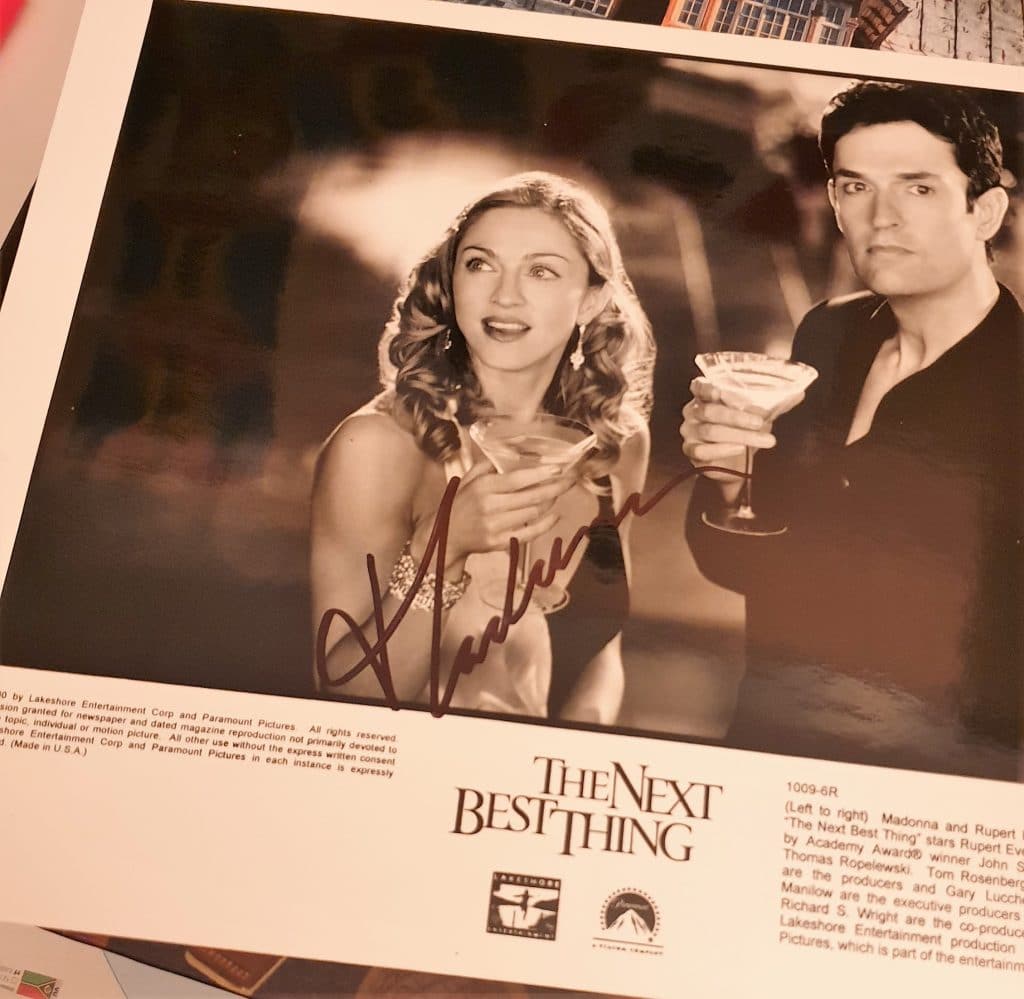 Biography
The remarkable, hyper-ambitious Material Girl who never stops reinventing herself, Madonna is a seven-time Grammy Award-winner who has sold over three hundred million records and CDs to adoring fans worldwide. Her film career, however, is another story. Her performances have consistently drawn scathing or laughable reviews from film critics, and the films have usually had tepid if any, success at the box office. Born Madonna Louise Ciccone in August 1958 in Bay City, Michigan, she moved to New York in 1978 and studied with renowned choreographer Alvin Ailey, joined up with the Patrick Hernandez Revue, formed a pop/dance band called "Breakfast Club" and began working with then-boyfriend Stephen Bray on recording several disco-oriented songs. New York producer/D.J. Mark Kamins passed her demo tapes to Sire Records in early 1982, and the rest is history.
The 1980s was Madonna's boom decade, and she dominated the music charts with a succession of multimillion-selling albums. Her musical and fashion influence on young women was felt around the globe. Madonna first appeared on screen in two low-budget films marketed to an adolescent audience: A Certain Sacrifice (1979) and Vision Quest (1985). However, she scored a minor cult hit with Desperately Seeking Susan (1985), starring alongside spunky Rosanna Arquette. Madonna's next effort with then-husband Sean Penn, Shanghai Surprise (1986), was savaged by critics. However, the resilient star managed to improve somewhat her standing with her next two films, the off-beat Who's That Girl (1987) (although she did receive decidedly mixed reviews, they weren't as negative as those of her previous effort) and the quirky Damon Runyon-inspired Bloodhounds of Broadway (1989). The big-budget and star-filled Dick Tracy (1990) had her playing bad girl "Breathless Mahoney" flirting with Warren Beatty, but the epic failed to catch fire at the box office. Taking an earthier role, Madonna was much more entertaining alongside Tom Hanks and Geena Davis in A League of Their Own (1992), a story about female baseball players during W.W.II. However, she again drew the wrath of critics with the whodunit Body of Evidence (1992), an obvious (and lame) attempt to cash in on the success of the sexy Sharon Stone thriller Basic Instinct (1992).
Several other minor screen roles followed, then Madonna starred as Eva Perón in Evita (1996), a fairly well-received screen adaptation of the hugely successful Broadway musical. She received a Golden Globe for Best Actress. The Material Girl stayed away from the movie cameras for several years, returning to co-star in the lukewarm romantic comedy The Next Best Thing (2000), followed by the painful Swept Away (2002) for husband Guy Ritchie. If those films weren't bad enough, she was woefully miscast as a vampish fencing instructor in the James Bond adventure Die Another Day (2002).
After finally admitting that her acting days were over, Madonna began a directing career in 2008 with the barely remembered Filth and Wisdom (2008). A year later, she reunited with Madonna: Truth or Dare (1991) director Alek Keshishian to develop a script about the relationship between the Duke of Windsor and the Duchess of Windsor that led to his abdication in 1936: the result, a movie named W.E. (2011), starring James D'Arcy and Andrea Riseborough as the infernal but still royal couple, was released in 2011 to lukewarm critics but it gathered one Oscar nomination for costumes and won the Golden Globe for Best Original Song for "Masterpiece."
Our Autograph
Size: 25×20 cm.
With COA.
Location: AP1