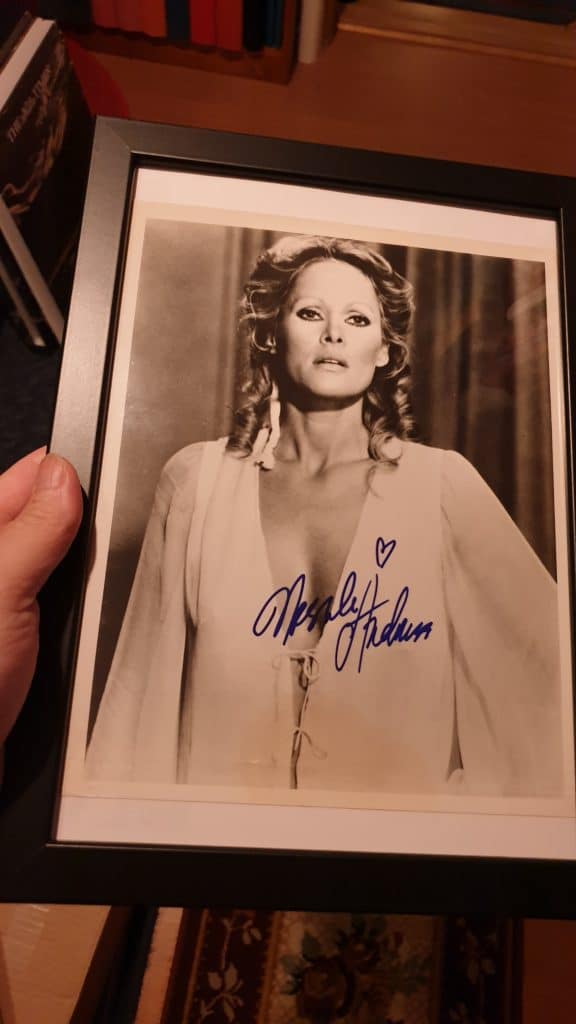 Biography
The quintessential jet-set Euro starlet, Ursula Andress was born in the Swiss canton of Berne on March 19, 1936, one of six children in a strict German Protestant family. Although often seeming icily aloof, a restless streak early demonstrated itself in her personality, and she had an impetuous desire to explore the world outside Switzerland. (For instance, she was tracked down by Interpol for running away from boarding school at 17 years old.) The stunning young woman found work as an art model in Rome and did walk-ons in three quickie Italian pictures before coming to Hollywood in 1955 and getting nowhere professionally; a four-month fling with rising star James Dean brought her good publicity but not much else. That same year, at 19, she met and had an affair with fading matinée idol John Derek, who left his wife Pati Behrs and two kids for Ursula even though she spoke almost no English at the time. In 1957 they eloped in Las Vegas, and the new bride put her acting ambitions on hold for a few years thereafter.
1962 saw the virtually unknown Swiss beauty back on the set, playing opposite Sean Connery in the first movie version of Ian Fleming's fanciful "James Bond" espionage novels, Dr, No (1962). Andress' role as bikini-clad Honey Ryder was somewhat brief, and her Swiss/German accent so thick that her entire performance had to be dubbed by a voiceover artist. Nevertheless, her striking looks and smoldering screen presence made a strong impression on moviegoers, immediately establishing her as one of the most desired women in the world and as an ornament to put alongside some of the most bankable talents of the era, such as Elvis Presley in Fun in Acapulco (1963) and Dean Martin in 4 for Texas (1963). In 1965, she was one of several European starlets to co-star in What's New Pussycat (1965) — a film that perhaps sums up mid-'60s pop culture better than any other — written by Woody Allen, starring Allen and Peter Sellers, with music by Burt Bacharach, a title song performed by Tom Jones and much on-screen sexual romping.
Andress appeared in many more racy-for-their time movies in both the United States and Europe, including La decima vittima (1965), in which she wore a famously ballistic bra, and Blue Max (1966), where she was aptly cast as the sultry, insatiable wife of an aristocratic World War I German general. She was also featured in Casino Royale James Bond 007! (1967), a satirical foray into the world of James Bond, and gave a sparkling performance in the T&A-filled crime caper Perfect Friday (1970). Roles as a prostitute kidnapped by outlaws in Soleil rouge (1971), a stewardess living on the edge in Colpo in canna (1975), and a bombshell nurse hired to titillate a doddering millionaire to death in L'infermiera (1975) all provided plenty of excuses to throw her clothes to the wind. In Slave of the Cannibal God (1978), she was notoriously stripped and slathered in orange paint by a nubile pair. Then she took on the sophisticated role of Louise de la Valliere, slinky, conspiratorial mistress of King Louis XIV (Beau Bridges) in The Fifth Musketeer (1979).
As for her personal life, Andress separated from Derek in 1964 and got divorced two years later, after falling in love with French superstar Jean-Paul Belmondo on the Malaysian set of Les tribulations d'un Chinois en Chine (1965). (Ron Ely, John Richardson, and Marcello Mastroianni kept her company during the interim.) Belmondo's relationship hit a wall in 1972, and she was next attached to her leading man from L'ultima chance (1973), Italian heartthrob Fabio Testi. When that didn't work out, Andress jumped into the dating pool, sporadically involved with a host of Lotharios including (but by no means limited to) Dennis Hopper, Franco Nero, John DeLorean, and Ryan O'Neal. In 1979, she began what would be a long-term romance with Harry Hamlin, her handsome young co-star from Clash of the Titans (1981) (in which she was cast, predictably, as "Aphrodite"). While subsequently traveling in India, Andress' belly began to swell out of her clothing, and she felt very nauseous. At first seemed a severe case of "Delhi Belly" turned out to be pregnancy, her first and only, at age 43. Hamlin encouraged her to have the baby — a life-changing decision for a woman who up until then had refused even the responsibility of a pet, and on May 19, 1980, the international sex symbol gave birth to a boy named Dimitri Hamlin amid much hoopla.
After her son's birth, Andress scaled back her career, which now focused on slight European productions, as she was raising Dimitri in Italy. This meant turning down a big-budget Mel Brooks film instead of Krasnye kolokola (1982) (starring old flame Nero). Occasional television stints on the soap opera Falcon Crest (1981) and critically lauded miniseries Peter the Great (1986) helped maintain her visibility. Dumped by Hamlin in 1983, she started seeing Fausto Fagone, a Sicilian student three decades her junior, in 1986. In 1991, she met a new man when things dwindled with Fagone — karate master Jeff Speakman. Since the breakup of that relationship, her love life has gone undocumented. She last worked on a film in 2005. Ostensibly retired from acting, Ursula makes the rounds of charity events and pops up on foreign talk shows now and then. She divides her time between family in Switzerland, friends in Virginia and Spain, and her properties in Rome and L.A.
Our Autograph
Size: 25×20 cm.
With COA.
Location: A2