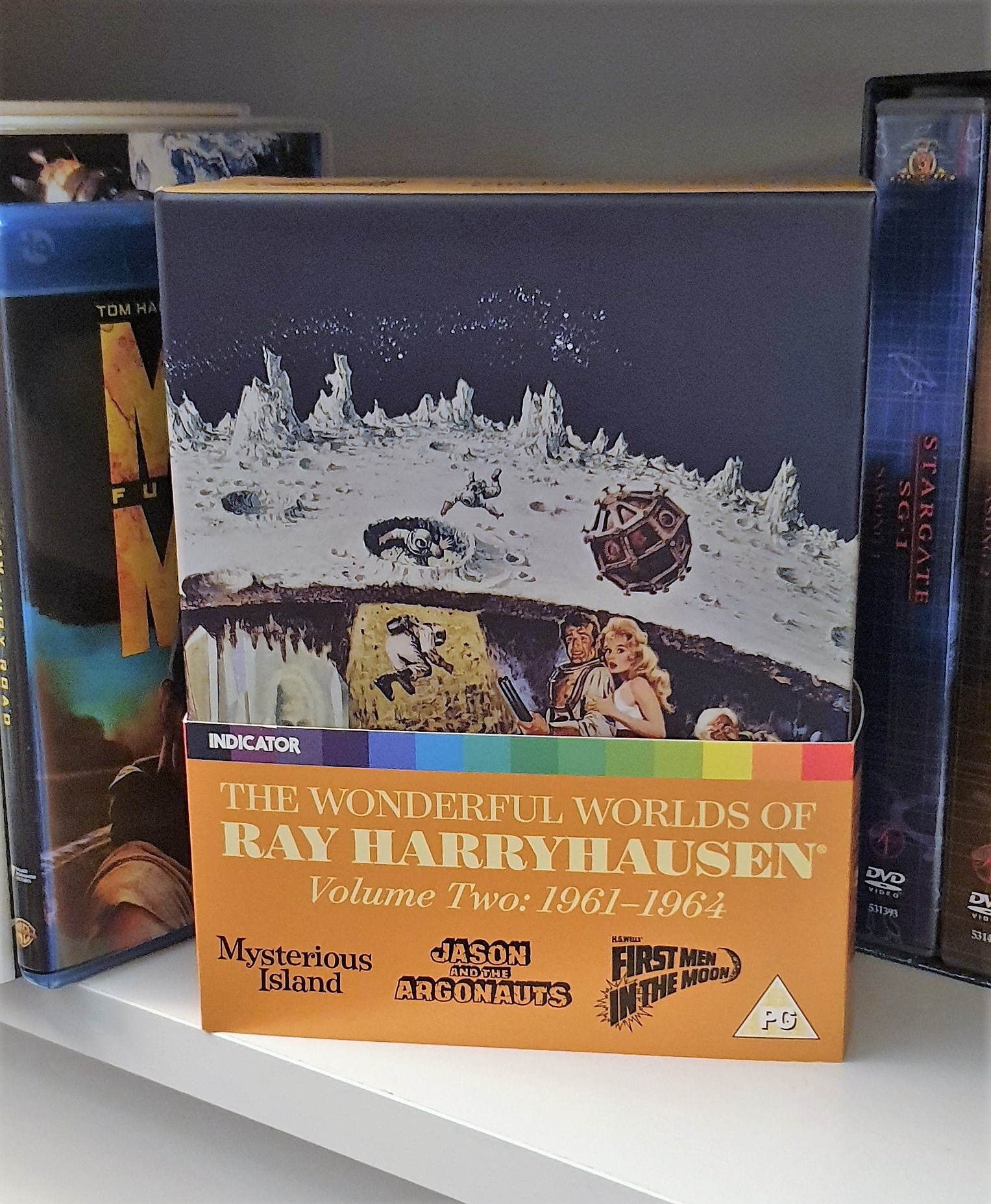 Format: Blu-ray
Genre: Action
Location: Fi14a
The Wonderful Worlds of Ray Harryhausen – Volume 2: 1961-1964 (2017)
This collection contains:
Mysterious Island (1961)
During the US Civil War, Union POWs escape in a balloon and end up stranded on a South Pacific island, inhabited by giant plants and animals. They must use their ingenuity to survive the dangers and to devise a way to return home. Sequel to '20,000 Leagues Under the Sea'.
Jason and the Argonauts (1963)
Jason has been prophesied to take the throne of Thessaly. When he saves Pelias from drowning but does not recognize him as the man who had earlier killed his father, Pelias tells Jason to travel to Colchis to find the Golden Fleece. Jason follows his advice and assembles a sailing crew of the finest men in Greece, including Hercules. They are under the protection of Hera, queen of the gods. Their voyage is replete with battles against harpies, a giant bronze Talos, a hydra, and an animated skeleton army, all brought to life by the special effects wizardry of Ray Harryhausen.
First Men in the Moon (1964)
Based on the HG Wells story. The world is delighted when a space craft containing a crew made up of the world's astronauts lands on the moon, they think for the first time. But the delight turns to shock when the astronauts discover an old British flag and a document declaring that the moon is taken for Queen Victoria proving that the astronauts were not the first men on the moon. On Earth, an investigation team finds the last of the Victorian crew – a now aged Arnold Bedford and he tells them the story of how he and his girlfriend, Katherine Callender, meet up with an inventor, Joseph Cavor, in 1899. Cavor has invented Cavorite, a paste that will allow anything to deflect gravity and he created a sphere that will actually take them to the moon. Taking Arnold and accidentally taking Katherine they fly to the moon where, to their total amazement, they discover a bee-like insect population who take an unhealthy interest in their Earthly visitors.