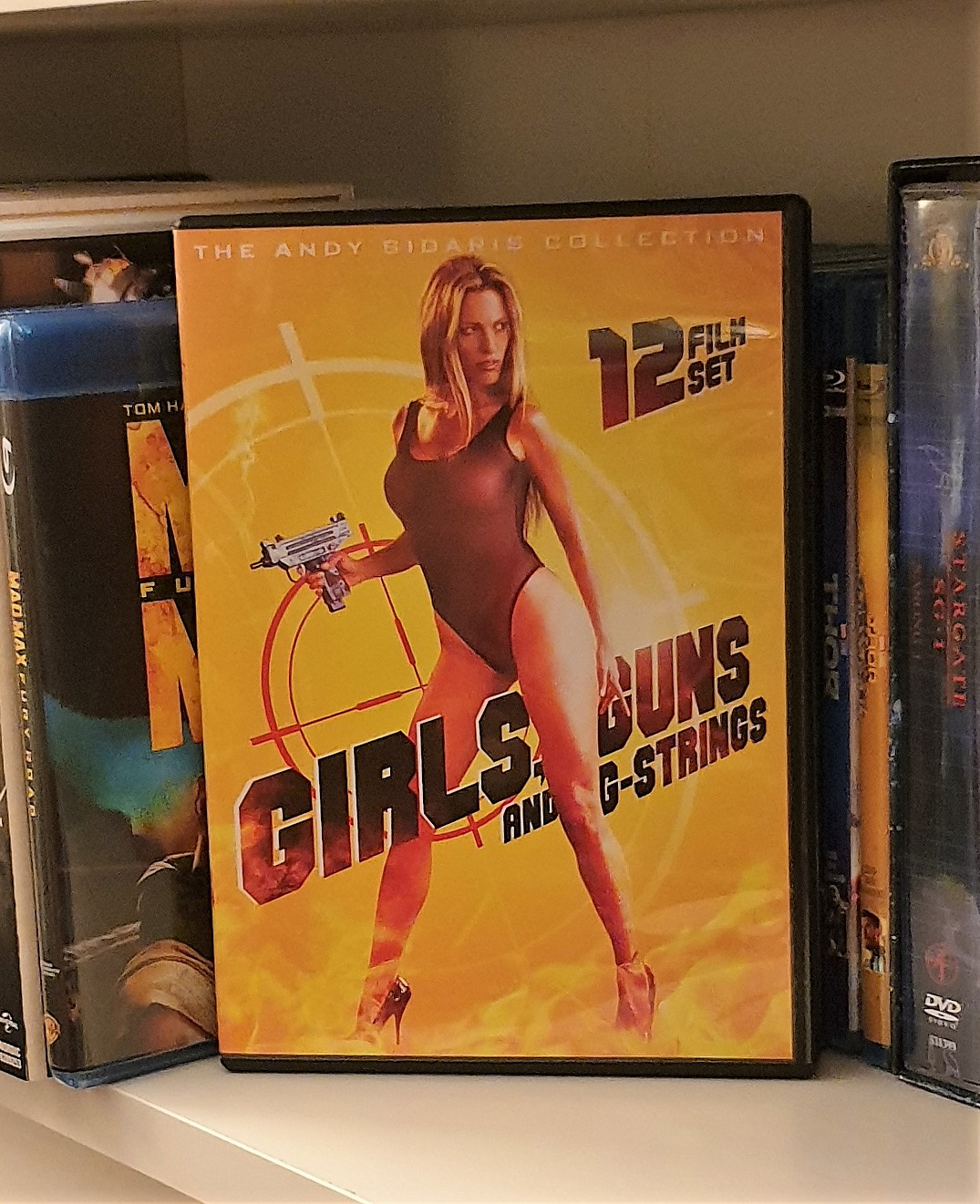 Format: DVD (Region 4)
Genre: Action
Location: Fi15a
Girls, Guns, and G-Strings: The Andy Sidaris Collection (1995)
This collection contains:
The Dallas Connection (1994)
Throughout the world, esteemed scientists are assassinated right before a major scientific convention in Dallas. Without a doubt, this killing spree has to do with the upcoming International World Arms Removal project, a sophisticated, state-of-the-art satellite system which has the ability to detect any weapons however big or small, under the most difficult weather conditions. For fear of being targeted, scientist Antonio Morales asks for the Agency's protection while on his way to Dallas, a job for Special Agent Samantha Maxx. As Dr. Morales plays a key role in the full operational capacity of the IWAR system, he must be protected at all costs, however, can Agent Maxx stop Black Widow's assassins?
Day of the Warrior (1996)
Somehow, the L.E.T.H.A.L. Agency's Headquarters security has been breached by an unknown foe who managed to break into the Force's computer system and tamper with classified documents regarding valuable information about its operatives. It seems that the man behind this cyber attack is none other than the "Warrior", a former CIA Agent and nowadays, a powerful multi-level criminal entrepreneur whose tentacles have spread into pornography, smuggling and the white slave trade. Ultimately, with the list of all the undercover agents' identities in hand, it is Commander's Willow Black and her team of Agents, Tiger and Cobra high-priority mission to obliterate the mastermind's lucrative underground market network.
Do or Die (1991)
Two beautiful American special agents are given a head start by an oriental crime boss. The head start is to get away from the teams of assassins he has lined up to kill them. Numerous visual costume changes later, the busty duo team up with other agents to make a convenient team of eight, all paired off in a boy/girl manner. 
Enemy Gold (1993)
In a suicide mission during the American Civil War, two soldiers discover gold which will bury on the root of a big tree, somewhere deep in the woods. More than a century later, three Federal agents in the same forests are on a mission to bust a drug-manufacturing operation run by the ruthless criminal kingpin, Santiago, and his men; however, an unexpected complication will lead to their suspension. Out of sheer luck, the operatives unearth the hidden treasure while on vacation–and from that point on–trouble ensues, as Santiago along with a duplicitous corrupt agent and his deadly personal assassin, Jewel Panther, will hunt them down, one by one. But, can brute force alone stop the expert and lethal agents?
Fit to Kill (1993)
Chinese businessman Chang owns the fabulous Alexa diamond, stolen from Russia during WWII. He intends to return it to Russia during a gala dinner, but the diamond is stolen by Kane, assisted by his lethal and seductive partner Blu Steele. The Agency, in charge of security at the event, go into high gear to try and recover the diamond. Gunplay, explosions, seductions, lethal remote control helicopters, and general mayhem ensue.
Guns (1990)
Juan Degas is the Jack of Diamonds, a nefarious arms dealer who intends to smuggle a big quantity of a new state-of-the-art weapon into America through Hawaii. In order to do so, Degas desperately needs to come up with a clever scheme to get out of his way the Agents who threaten the success of his plans. With the intention to liquidate both L.E.T.H.A.L. Agents Donna and Nicole, Degas' assassins manage to engage them in a dangerous, fast-paced chase that will eventually lead them to Las Vegas, thousands of miles away. However, when Degas' men abduct Donna's mother, it will be his biggest mistake because, from that point on, things are about to get personal. Hungry for revenge, Donna armed with a devastating rocket launcher, she will have to go through stealthy ninja assassins and radio-controlled scale boats loaded with explosives to protect her family.
Hard Hunted (1993)
A nuclear trigger is being smuggled to the mid-east, and the "global balance of power is in jeopardy". A female federal agent goes undercover to steal it and ends up being murdered. 3 other busty federal agents, all former playboy playmates, along with their beefcake companions, have to save the day.
Hard Ticket to Hawaii (1987)
Two drug enforcement agents are killed on a private Hawaiian island. Donna and Taryn, two operatives for The Agency, accidentally intercept a delivery of diamonds intended for drug lord Seth Romero, who takes exception and tries to get them back. Soon other Agency operatives get involved, and a full-scale fight to the finish ensues, complicated here and there by an escaped snake made deadly by Toxic Waste.
Malibu Express (1985)
Smooth-talking Texan sexy cowboy and ambitious private investigator Cody Abilene is assigned by the cryptic Contessa Luciana with the task of watching over the eccentric and well-off Lady Lillian Chamberlain after following up on a lead. In the meantime, an elusive traitor and a serious threat to National security are acting as a courier stealing state-of-the-art computer technology right under the government's nose and selling it back to the Russians. Inevitably, the bodies will soon start piling up as the inconspicuous Cody who infiltrates the luxurious Chamberlain's villa in Bel-Air will unearth a family member's involvement with a project led by the nefarious computer magnate Jonathan Harper. Without a doubt, someone wants desperately Cody dead, however, between murder, blackmail, and espionage, good old Cody will always help any woman in distress because after all, there will always be knights in the world.
Picasso Trigger (1988)
Double agent Picasso Trigger is assassinated in Paris by double-crossing bad guy Miguel Ortiz. Then Ortiz begins eliminating agents of The Agency who were involved in his brother's death. The Agency (belatedly) springs into action to stop Ortiz' heinous activities. The usual gunplay, romance, and nifty toys with bombs ensue.
Return to Savage Beach (1998)
A stolen computer disk contains the location of a hidden treasure trove. It's up to the sexy ladies of LETHAL (Legion to Ensure Total Harmony and Law) to find the treasure before the bad guys do. Will the forces of evil be able to overcome LETHAL's powerful combination of bullets, brains, and boobs?
Savage Beach (1989)
Donna and Taryn are federal drug enforcement agents based in the Hawaiian isles. Upon the success of a drug bust, they receive a call from Shane Aviation to fly an emergency package of vaccine from Molokai to Knox Island. Unbeknownst to them, Philippine representative Martinez has convinced Captain Andreas to use a reconnaissance satellite to locate a sunken ship laden with gold that the Japanese had pilfered during World War II. Meanwhile, a storm forces Donna and Taryn to land their plane on a remote island which harbors the gold. The hijinks ensue when they are joined by a host of nefarious types who has learned of the gold's location.