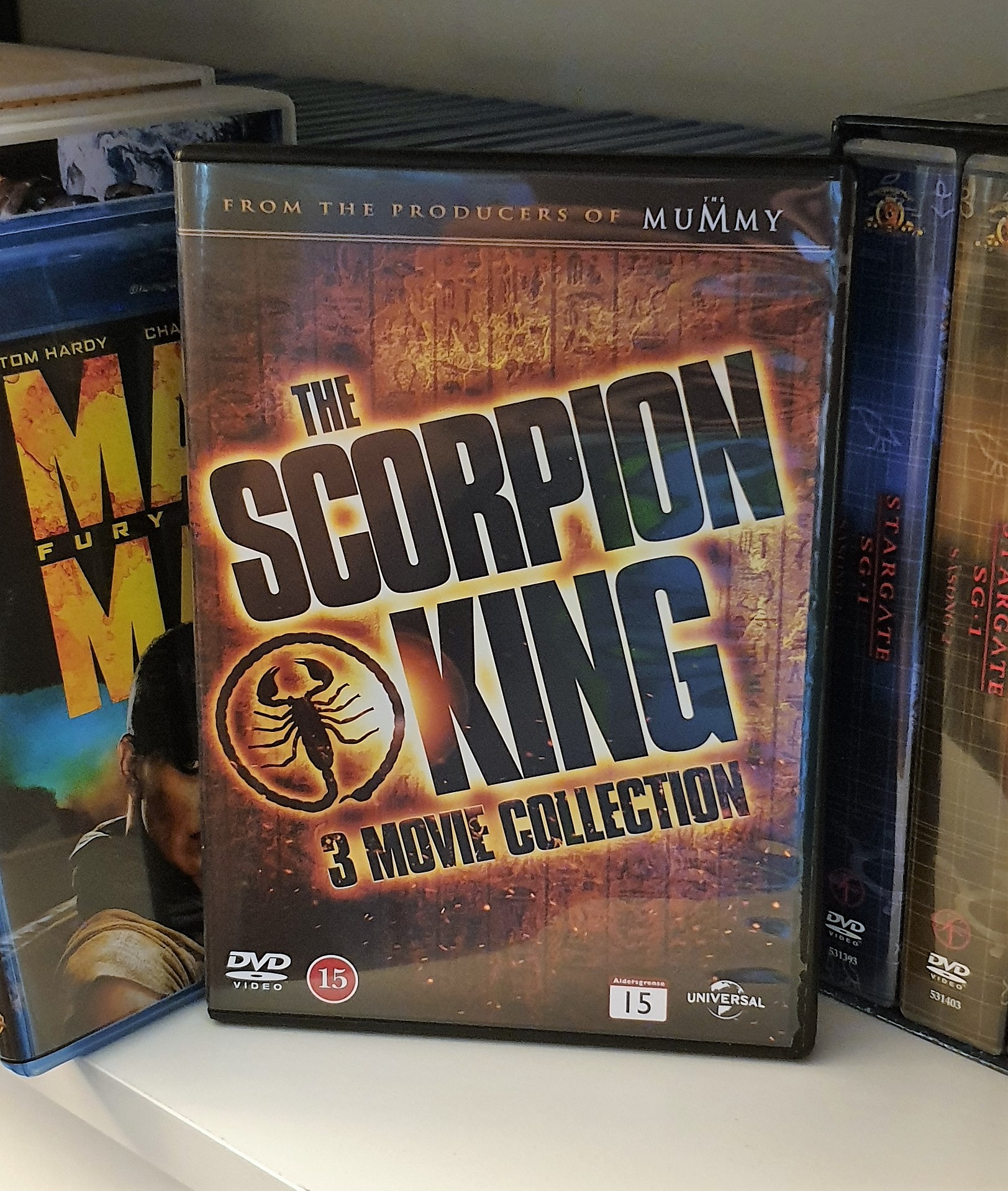 Format: DVD
Genre: Action, Adventure
Location: Fi16a
The Scorpion King: 3 Movie Collection (2002)
This collection contains:
The Scorpion King (2002)
In an ancient time, predating the pyramids, the evil king Memnon is using the psychic powers of his sorceress Cassandra to foretell his great victories. In a last-ditch effort to stop Memnon from taking over the world, the leaders of the remaining free tribes hire the assassin Mathayus to kill the sorceress. But Mathayus ends up getting much more than he bargained for. Now with the help of the trickster Arpid, tribal leader Balthazar and an unexpected ally, it's up to Mathayus to fulfill his destiny and become the great Scorpion King. 
The Scorpion King: Rise of a Warrior (2008)
In Ancient Akkad, Mathayus grows up as the proud son of Ashur, a captain in the world-renowned military corps of Black Scorpions, first-rate bodyguards, most of which are sent to courts wide away. By objecting to young Mathayus joining the corps, Ashur incurs the undying enmity of ruthless generalissimo Sargon, gets killed and the orphaned knave is shipped off to a desolate training camp for six years by king Hammurabi's clemency. When he returns as a Black Scorpio, Sargon has bloodily seized the throne and demands cruel proof of blind loyalty. Mathayus refuses, becoming a chased hero. With youth friends, the resourceful Greek Pollux and various mercenary warriors, he embarks on a daring quest to obtain a legendary sword from Sargon's magical ally, the war-goddess Astarte.
The Scorpion King 3: Battle for Redemption (2012)
Mathayus's sorceress-queen is killed by a pest which ravaged his kingdom until it fell. Feeling guilty and a failure, the Akkadian resumed the life of a mercenary. He's hired by Horus, king of the now dominant Near eastern kingdom, to help out defend the palace of Hindu king Ramusan, guardian of the Book of the Death, the last ally barring the bid for Horus's throne by his rogue brother Talus, whose raids in the Far East yielded the largest army ever. Mathias is instructed to team up with simpleton Teutonic giant Olaf. Ramusan can't pay them the promised gold but offers the hand of his daughter Silda, whose portrait shows a priceless medallion. Their fight is complicated by the mysterious Cobra, hired by Talus, who captured the princess, so they pair pretends to enter Talus's service, but finds out about an even more devious deception, while Talus captures the book and thus is able to conjure the warrior ghosts.