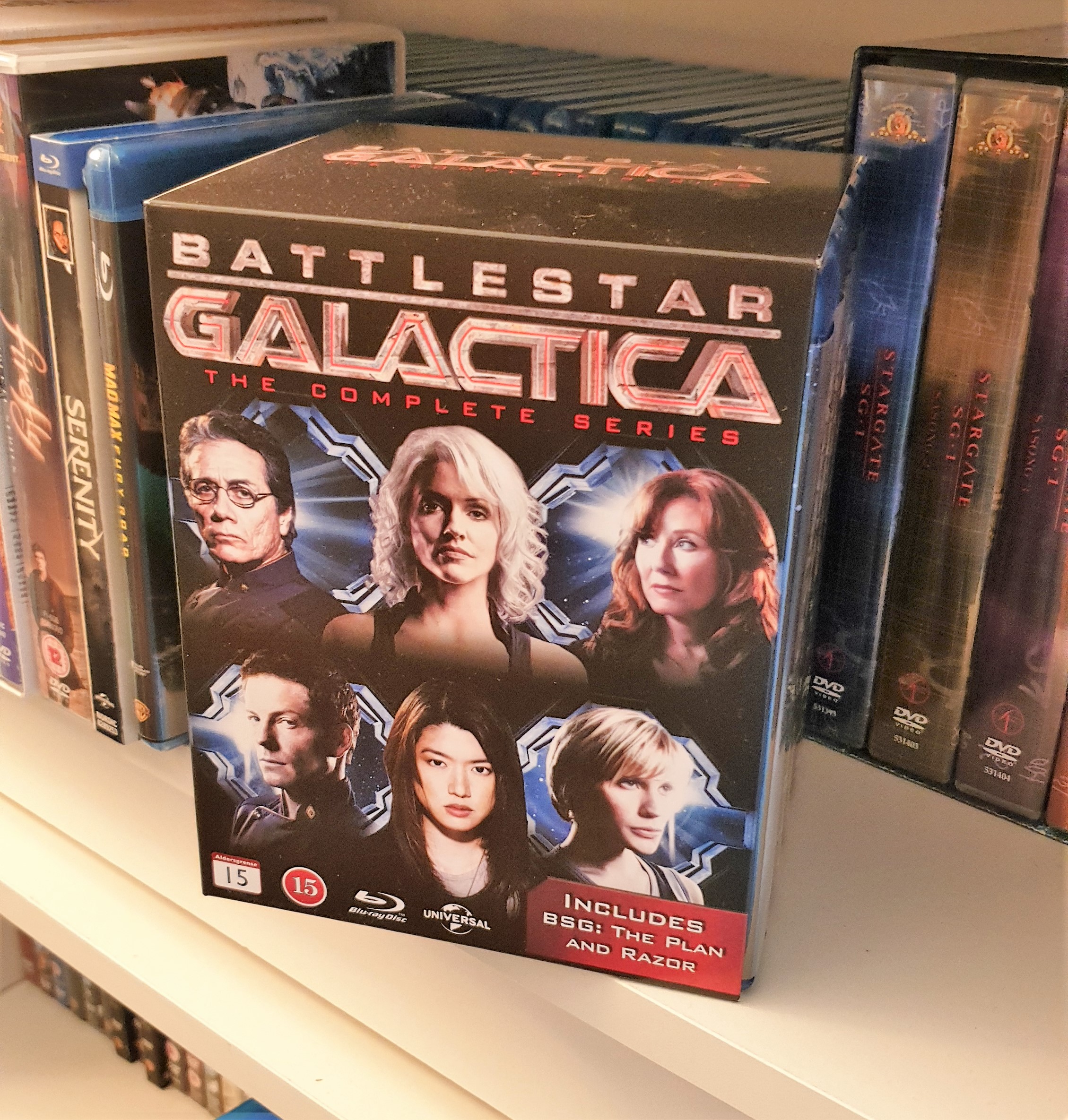 Format: Blu-ray
Genre: Science Fiction
Location: Fi16b
Battlestar Galactica: The Complete Series (2004)
The second war against the Cylons is over, and The Twelve Colonies have been destroyed. Now Commander Adama of the Battlestar Galactica and President Laura Roslin lead a ragtag fleet of refugees in a supposed search for the fabled lost thirteenth colony, Earth. However, the dangers they face are many, which compound an already difficult situation. In addition to the Cylons hunting and attacking the fleet in space and their infiltrator units carrying out sabotage–even as their former unwitting pawn, Gaius Baltar, helps in the hunt for them while hiding both his own guilt and the strange presence that haunts his every thought–the fleet also faces internal political conflict in which the rabble-rousing figure Tom Zarek is merely the loudest dissenting voice, not to mention recurring shortages of food, water, and even oxygen. In the midst of these trials, however, clues begin to appear to suggest that Adama's bluff about finding Earth might hold more truth than anyone could have guessed.
This collection also contains two feature films:
Battlestar Galactica: Razor (2007)
A two-hour Battlestar Galactica special that tells the story of the Battlestar Pegasus several months prior to it finding the Galactica.
Battlestar Galactica: The Plan (2009)
The number One Cylon brothers Cavil organize a massive coordinate simultaneous attack to destroy the twelve colonies, but it fails to wipe out human life or break the human spirit. They now orchestrate deceptive actions, infiltrating surviving communities, notably aboard flagship Battlestar Galactica and Samuel Anders's human trainees class on planet colony Caprica. Both sides must confront existential as well as pragmatical challenges to battle for survival.