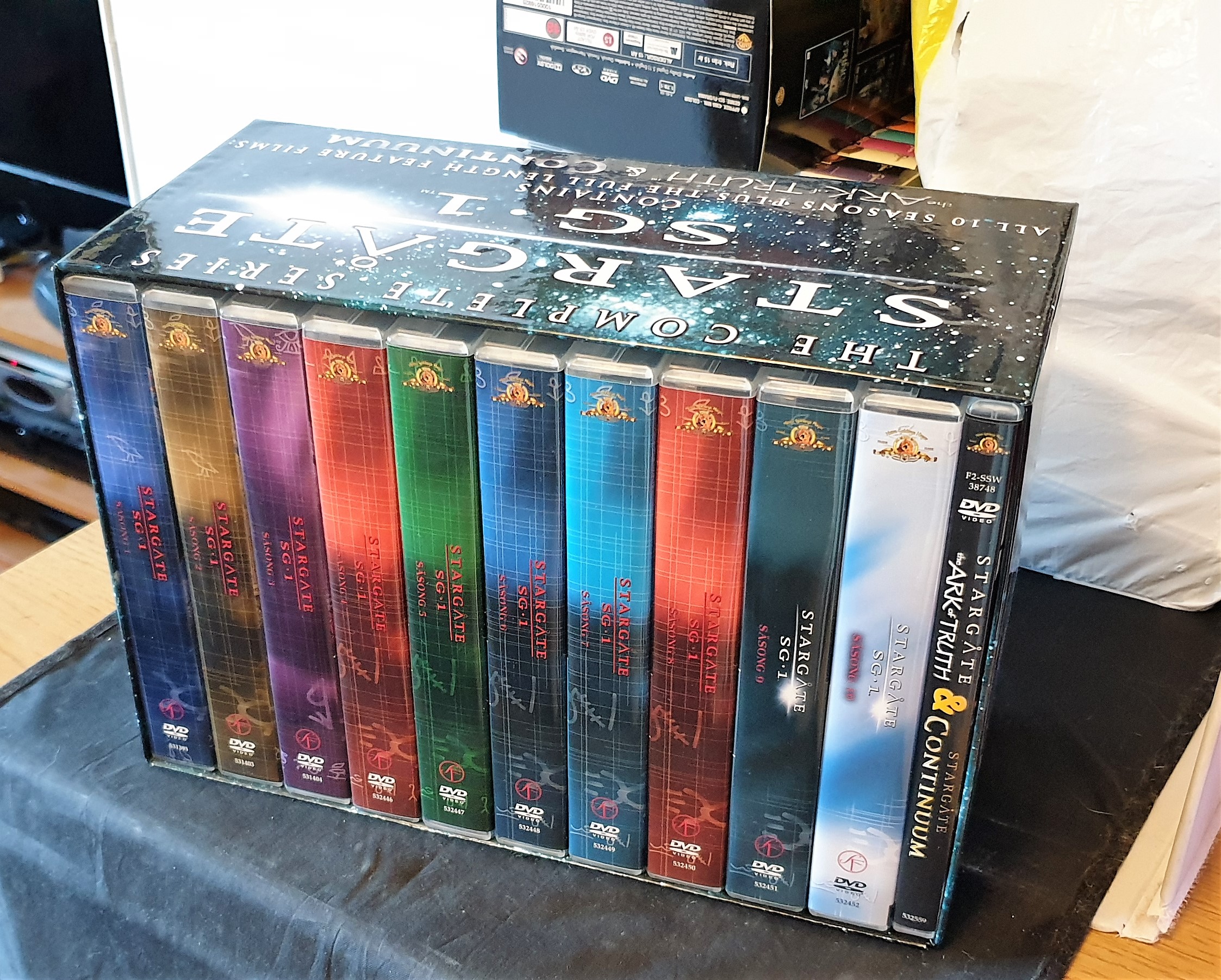 Format: DVD
Genre: Adventure, Science Fiction
Location: Fi17a
Stargate SG-1: The Complete Series (1997)
This collection contains:
Stargate SG-1: The Complete Series (1997)
General Hammond summons Colonel Jack O'Neill out of retirement to embark on a secret rescue mission. O'Neill confesses that he disobeyed orders to destroy the Stargate on Planet Abydos, and that scientist Daniel Jackson may still be alive. Arriving on Abydos with his team, O'Neill meets up once again with the scientist, who has discovered a giant elaborate cartouche in hieroglyphics. All signs point to the fact that this is a map of many Stargates that exist throughout the galaxy – a development that makes the dream of the SG-1 team to travel throughout the universe in time a reality.
Stargate: The Ark of Truth (2008)
SG-1 searches for an ancient weapon which could help them defeat the Ori, and discover it may be in the Ori's own home galaxy. As the Ori prepare to send ships through to the Milky Way to attack Earth, SG-1 travels to the Ori galaxy aboard the Odyssey. The International Oversight committee has its own plans and SG-1 finds themselves in a distant galaxy fighting two powerful enemies.
Stargate: Continuum (2008)
When the Stargate team goes to see Ba'al, the last of the System Lords, being extracted from his host. All of a sudden, Tealc, Vala and all of their allies start to vanish. Later Carter, Daniel, and Mitchell try to escape through the Stargate but find themselves not on earth but on a ship trapped beneath the polar ice cap. They learn they are on the freighter that was delivering the Stargate found in Egypt in 1939 to America. The ship is about to sink and they evacuate. They are picked up by a submarine and brought to a Naval Base where they learn the SG project never happened. They try to warn the government that the Gouald might attack earth. But the government doesn't believe and tells them that they're being released and given new identities and not to talk to each other or about their previous alternate timeline. One year later, the Gouald attack and the government asks for their help.