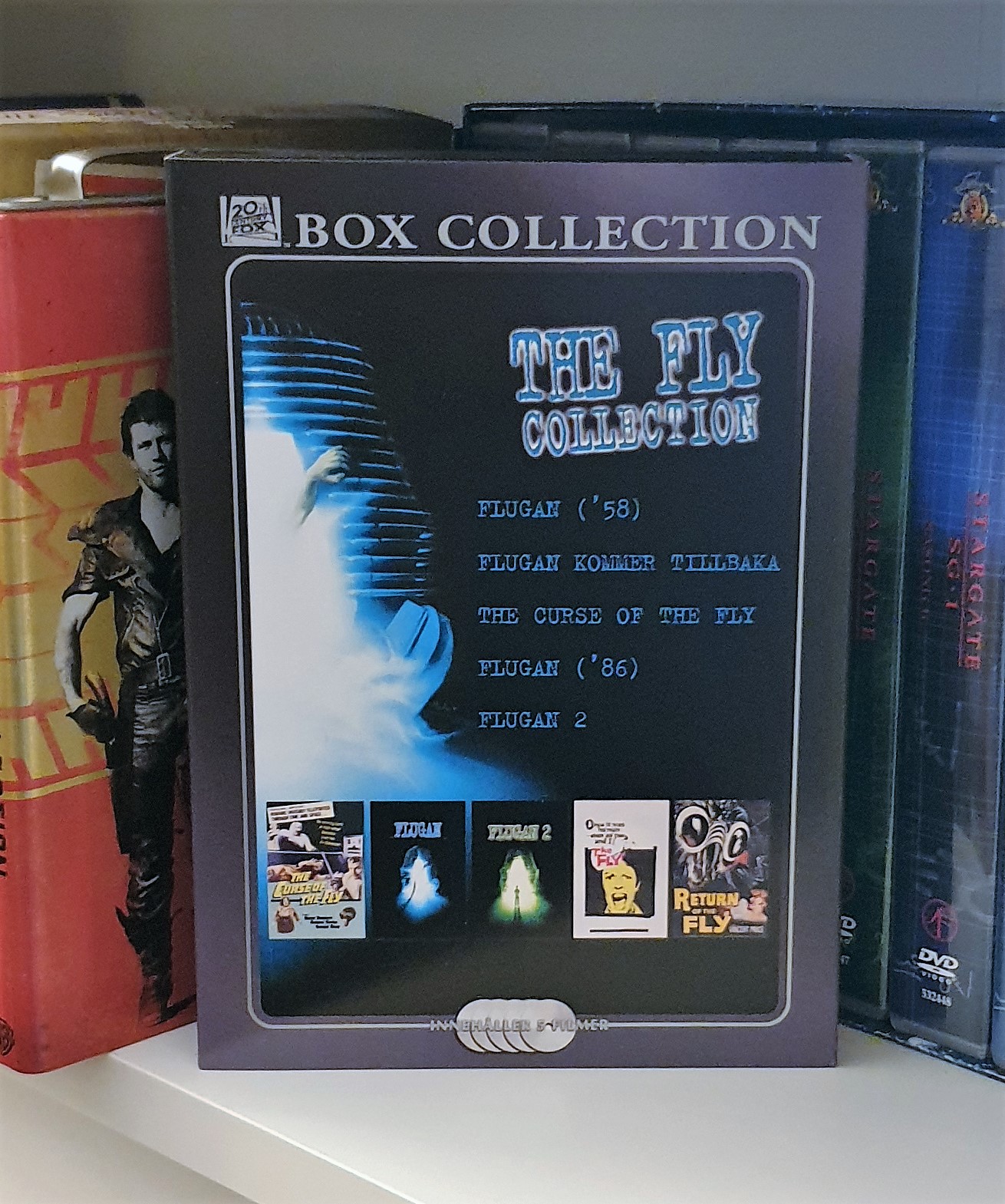 Format: DVD
Genre: Horror
Location: Fi18a
The Fly: Collection (1958)
This collection contains:
The Fly (1958)
After her husband Andre Delambre is crushed to death in a mechanical press, his wife recounts to his brother Francois Delambre and police Inspector Charas the events of the previous few months. They were very much in love and with their little boy, a very happy family. Andre was experimenting with teleportation – transporting objects from one point to another by breaking the object down to the atomic level and then reassembling it in a receiver a distance away. The system had some glitches – it seemed to work with an inanimate object but his cat disappeared when he tried teleporting it. He thinks he's solved all of the problems with his invention and decides to try and teleport himself. When a fly enters the teleportation device with him, disaster strikes.
The Return of the Fly (1959)
Fifteen years after his father's experiments with matter transmission fail, Philippe Delambre and his uncle François attempt to create a matter transmission device on their own. However, their experiments have disastrous results, turning Philippe into a horrible half-man, half-fly creature. 
The Curse of the Fly (1965)
Remember that scientist that was trying to perfect a matter transportation machine but got fused with a fly when one of the little critters got into the transporter with him? Well, this story is about three of his descendants (a son, Henri Delambre, played by Brian Donlevy and two grandsons). Seems the son wants to continue and perfect the machine while his two sons want to get out of the scientist business and live "normal" lives. The oldest son, Martin, decides to take a wife (who just happens to have escaped from a mental hospital after her parents died). Martin's father is not happy with this intrusion but finally gives in because he understands his son's needs. They all try to be a happy family until humans used in botched experiments are discovered by the new bride and the police nearly discover the lab while looking for Martin's wife. Everyone tries to get out of there via the transporter but things just don't go according to plan.
The Fly (1986)
Seth Brundle (Jeff Goldblum), a brilliant but eccentric scientist attempts to woo investigative journalist Veronica Quaife (Geena Davis) by offering her a scoop on his latest research in the field of matter transportation, which against all the expectations of the scientific establishment have proved successful. Up to a point. Brundle thinks he has ironed out the last problem when he successfully transports a living creature, but when he attempts to teleport himself a fly enters one of the transmission booths, and Brundle finds he is a changed man. This Science-Gone-Mad film is the source of the quotable quote "Be afraid. Be very afraid."
The Fly 2 (1989)
Seth Brundle was a renowned scientist whose warped experiments with teleportation transformed him into a man/fly hybrid called BrundleFly. A few months after the BrundleFly insect met its demise by his lover's, Veronica, shotgun, she dies while giving birth to their son, Martin. Seth's corrupt employer, Bartok, adopts Martin, only so Martin can solve the new problems that the still-functioning TelePods present and to use him as a science project because of the dormant insect genes. Martin is now fully grown, even though he is five, and the fly genes begin to awaken and make him just like dear, dead dad. With the help of his girlfriend, Beth, they go to wherever they can find a possible cure before Bartok finds them and brings them back, but not before Martin finishes his transformation into MartinFly, the deadliest of the BrundleFly species.