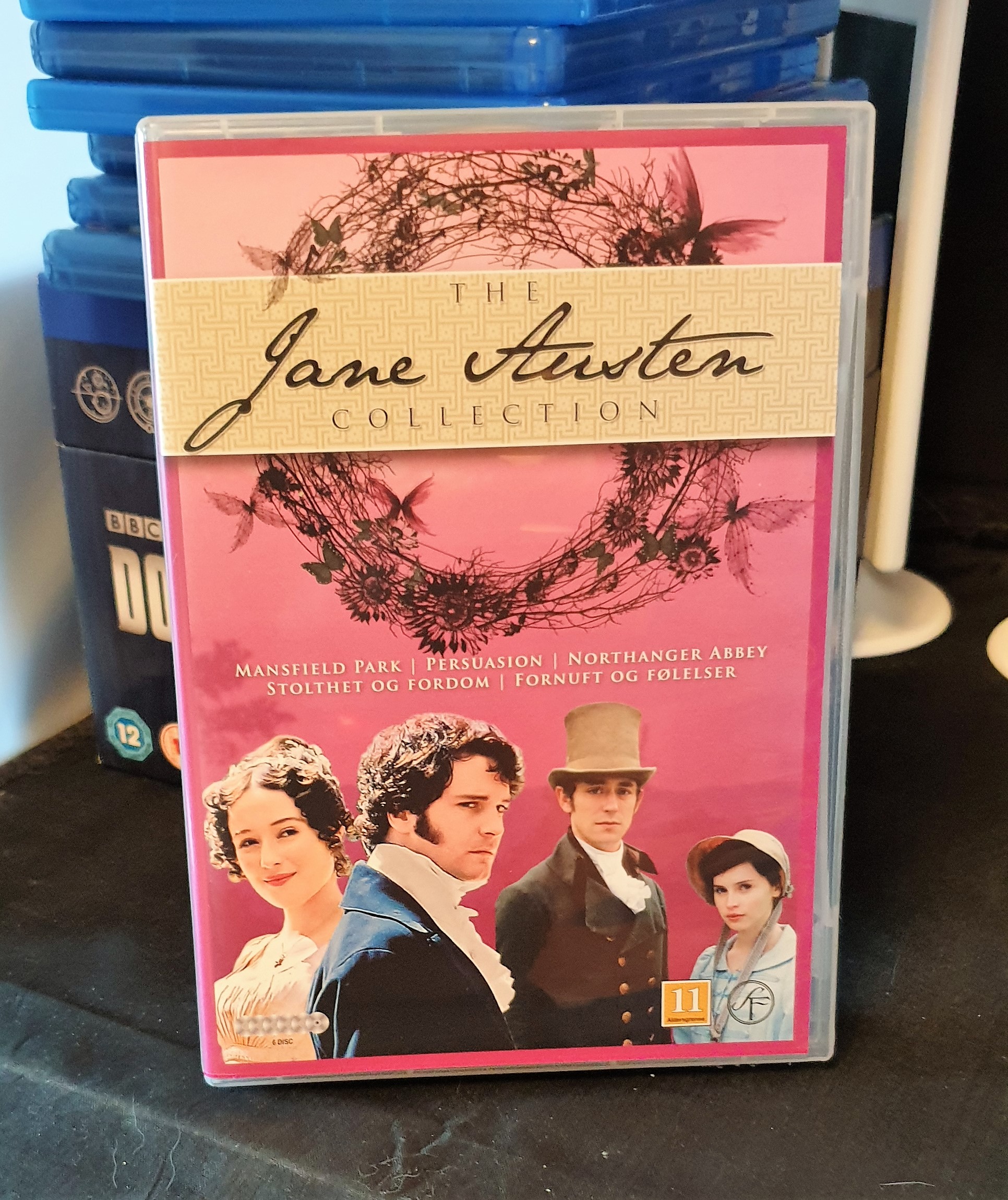 Format: DVD
Genre: Mystery
Location: Fi18B
This collection contains:
The Jane Austen Collection (2004)
Movies included:
Mansfield Park (2007)
At age 10, Fanny Price is sent by her destitute mother to live with her aunt and uncle, Sir Thomas and Lady Bertram. As a child, she was often made to feel that she was the poor relation but by the time she reaches 18, and in the absence of her uncle who leaves on a business trip for an extended period, she begins to enjoy herself. When Henry Crawford and his sister Mary become neighbors to the Bertrams, opportunities abound. Edmond Bertram falls in love with Mary but she wants to marry a man with money, not someone destined to live as a clergyman. Meanwhile, Fanny's love for her cousin Edmond prevents her from accepting Mr. Crawford's proposal of marriage.
Persuasion (2007)
Royal Navy captain Wentworth was haughtily turned down eight years ago as suitor of pompous baronet Sir Walter Elliot's daughter Anne, despite true love. Now he visits their former seaside country estate, rented by his brother-in-law, admiral Croft, so the financially stressed baronet can afford a fashionable, cheaper residence in trendy Bath. First, the former lovers meet again on the estate, where they feel vibes again, but neither dares admit them until it seems too late. Yet the truth becomes clear, both have moved but meet again in Bath.
Northanger Abbey (2007)
When Catherine Morland is given the opportunity to stay with the childless Allen family in Bath, she is hoping for an adventure of the type she has been reading in novels. Soon introduced to society, she meets Isabella Thorpe and her brother John, a good friend of her own brother, James. She also meets Henry Tilney, a handsome young man from a good family and his sister, Eleanor. Invited to visit the Tilney estate, Northanger Abbey, she has thoughts of romance but soon learns that status, class, and money are all equally important when it comes to matters of the heart.
Sense and Sensibility (2008)
Widow Dashwood and her three unmarried daughters, Elinor, Marianne, and Margaret, inherit only a tiny allowance. So they move out of their grand Sussex home to a more modest cottage in Devonshire. There, the prevailing ambition is to find suitable husbands for the girls. With help from wealthy neighbor Sir John Middleton, suitors for Elinor and Marianne are soon found, but not landed. They include dashing Willoughby, future vicar Edward Ferrars, and retired colonial gentleman Colonel Brandon.
Pride and Prejudice (1995)
Elizabeth Bennett is a strong-willed yet sensible young woman whose father is a gentleman with a quite modest estate and whose uncle suffers in status from being a businessman in Cheapside. She has four sisters, a long-suffering but loving father, and a mother anxious to marry them to wealthy young gentlemen. At a local ball, she encounters one such wealthy young man, Mr. Fitzwilliam Darcy — and as Mr. Darcy is arrogant, cold and rude, it is hatred at first sight. As her older sister Jane falls in love with Mr. Darcy's best friend Mr. Bingley, and her youngest sister Lydia flirts with anyone in a military uniform, Lizzie finds herself fighting off the attentions of the unctuous Mr. Collins and quite taken by the charming Mr. Wickham – who also happens to be an enemy of Mr. Darcy. However, as the characters succumb in many ways to pride and prejudice, Lizzie learns that not all is quite as it seems and that Mr. Darcy might not be so disagreeable after all.