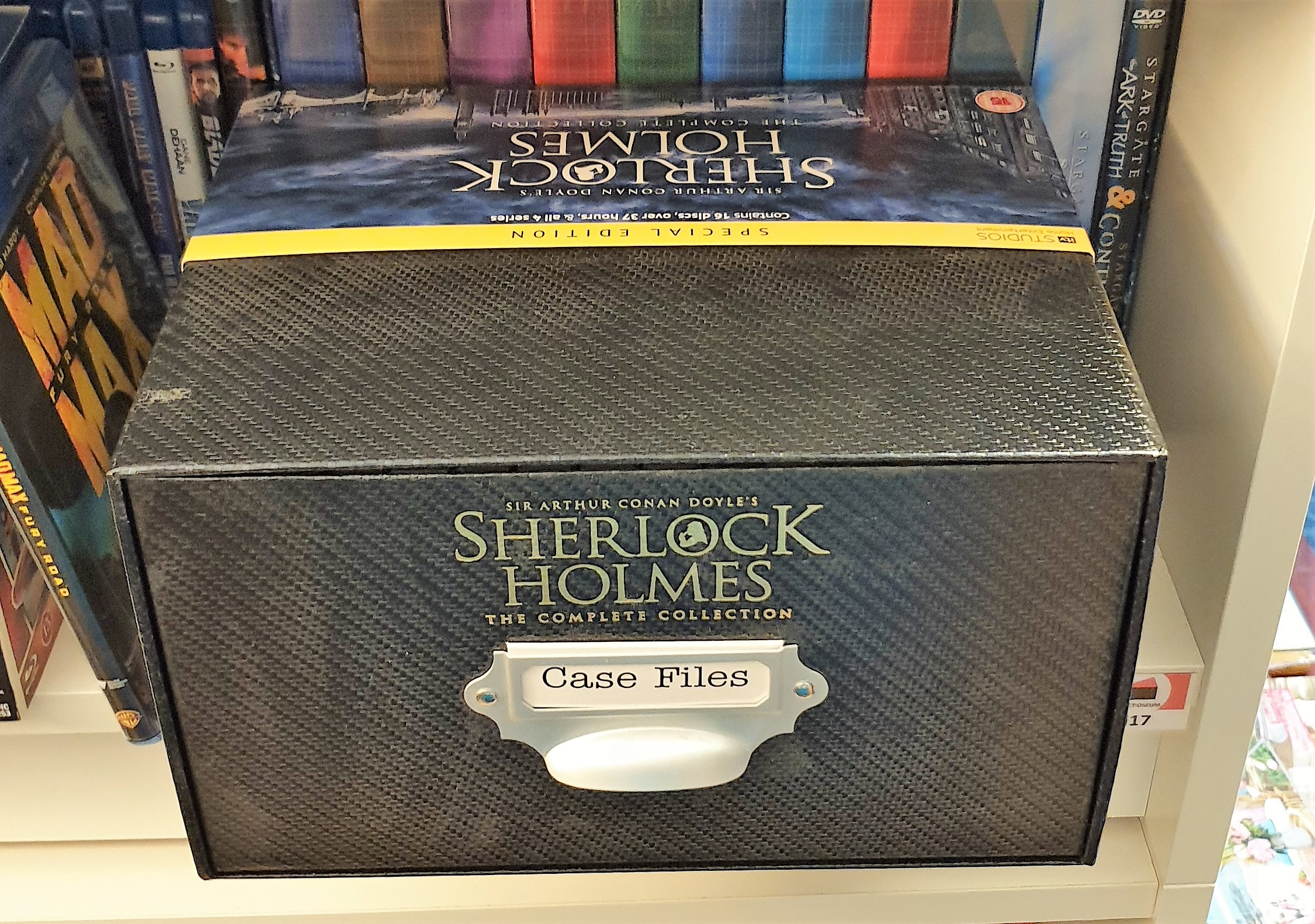 Format: DVD
Genre: Mystery
Location: Fi20B
This collection contains:
Sir Arthur Conan Doyle's Sherlock Holmes: The Complete Collection (1984)
Sherlock Holmes, the creation of novelist Sir Arthur Conan Doyle, is one of the world's greatest and most popular fictional detectives, as famous for his deerstalker and pipe as his legendary powers of observation and deduction. He is an aloof and private man driven by a fierce intellect that gives him astounding brilliance and unfathomable eccentricity in equal measure.
The late Jeremy Brett, the definitive Holmes, stars in these beautiful adaptations taken from the classic ITV1 series and as ever Dr. Watson is on hand as his indispensable assistant. Featuring guests appearances from stars such as John Thaw (Inspector Morse), Robert Hardy (Harry Potter and the Chamber of Secrets), Natasha Richardson (Maid in Manhattan), Joss Ackland (Lethal Weapon 2), Peter Vaughan (Remains of the Day) and many more.
This 16 disc boxset contains the entire Sherlock series. Episodes include:
The Adventures of Sherlock Holmes :
A Scandal In Bohemia
The Dancing Men
The Naval Treaty
The Solitary Cyclist
A Crooked Man
The Speckled Band
The Blue Carbunkle
The Copper Beeches
The Greek Interpreter
The Norwood Builder
The Resident Patient
The Red-Headed League
The Final Problem
The Return Of Sherlock Holmes:
The Empty House
The Priory School
The Second Strain
The Musgrove Ritual
The Abbey Grange
The Man with the Twisted Lip
The Six Napoleons
The Sign of Four
The Devil's Foot
Silver Blaze
Wisteria Lodge
The Bruce Partington Plans
The Hound Of The Baskervilles
The Casebook Of Sherlock Holmes:
The Disappearance Of Lady Frances Carfax
The Problem of Thor Bridge
The Adventure of Shoscombe Old Place
The Boscombe Valley Mystery
The Illustrious Client
The Creeping Man
The Master Blackmailer
The Last Vampyre
The Eligible Bachelor
The Memoirs Of Sherlock Holmes:
The Three Gables
The Dying Detective
The Golden Pince-Nez
The Red Circle
The Mazarin Stone
The Cardboard Box