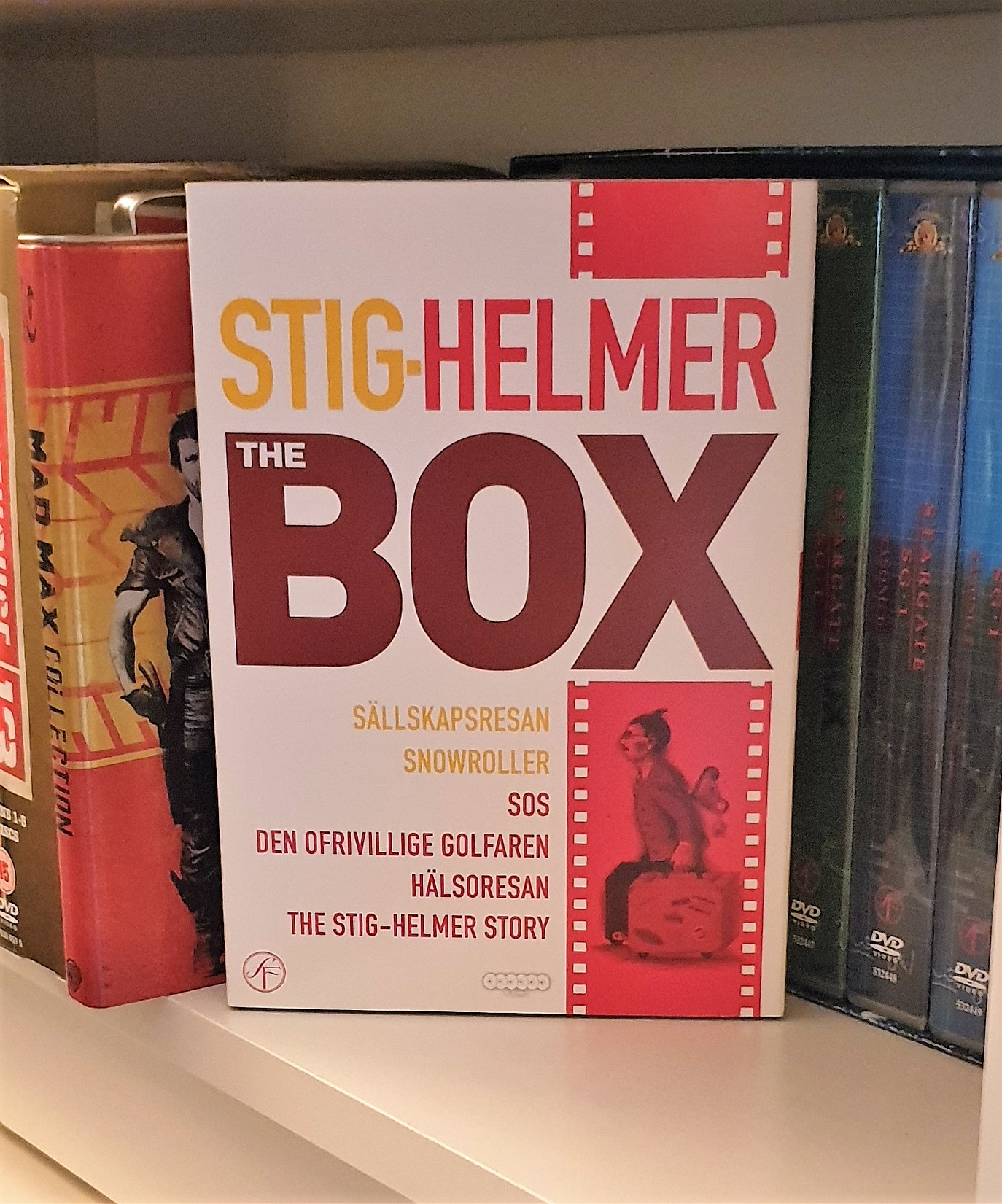 Format: DVD
Genre: Thriller
Location: Fi11a
Stig Helmer: The Box (1980)
This collection contains:
Sällskapsresan eller Finns det svenskt kaffe på grisfesten (1980)
Stig-Helmer Olsson isn't the fashionable jet-set type, but, for the first time in his life, he's going to travel abroad. He chooses a trip to the Canary Islands over Christmas. Before leaving, his doctor asks him to bring a package to a friend of his. Without Stig-Helmer knowing it, the package contains 50,000 SEK, which is illegal to bring out of the country. However, Stig-Helmer's bag with the package disappears at the airport. Dr. Levander's friend believes that Stig-Helmer has stolen the money and is anxious to get them back.
Sällskapsresan II – Snowroller (1985)
Stig-Helmer takes another vacation with his Norwegian friend Ole. This time it's time for a skiing vacation in the Alps. Of course, Stig-Helmer has never learned downhill skiing, but he attends a ski school. And together they manage to charm two women also on vacation. The other Swedish tourists are a diverse group of people, including the choleric Mr. Jönsson and his family and two men trying to sell kick sleds.
SOS (1988)
The landlubber Stig-Helmer and his Norwegian friend Ole get on a barge by mistake. They arrive at an island in the archipelago and have to spend Midsummer among the fancy rich people, their champagne parties, their summer houses, and the annual yacht race.
Den ofrivillige golfaren (1991)
I bet anyone can get better at golf than you are in one week, a golfer says to her golfing businessman for a boyfriend in a quarrel. Unfortunately, Stig-Helmer is standing nearby when the boyfriend accepts the bet, and he is chosen to be the competitor. Stig-Helmer has never played the game before, but his Norwegian friend Ole promises to help him.
Hälsoresan – En smal film av stor vikt (1999)
Stig-Helmer has returned to Sweden after the divorce from Fiona, and lives a sad and stagnant life in front of the television. As usual, his enthusiastic and energetic friend Ole knows how to get his pal out of the boring existence he finds himself in. The eccentric Rebekka is a whole new acquaintance, who radically is going to change Stig-Helmer's life.
The Stig-Helmer Story (2011)
Stories of his youth told Ole Bramserud as they attempt to track down his first love. Showing the origins of his obsessive interest in trains, his Romeo and Juliet love-story as well as the days being bullied by Biffen.